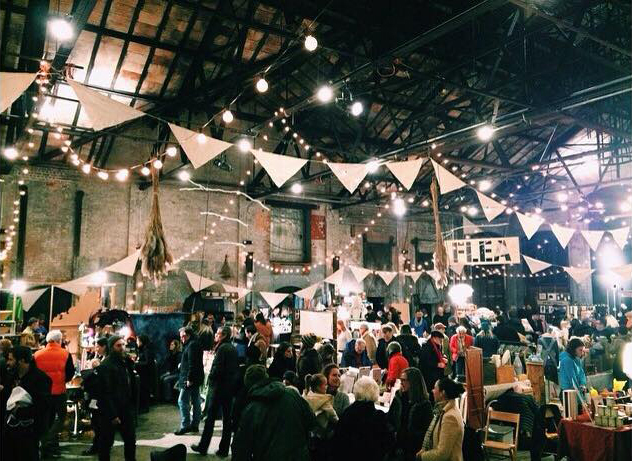 The unofficial holiday shopping season officially starts up Friday. (Or so they say.)
If you're looking for something a little bit different -- craftier, handmade, more independent, fair trade -- there are a bunch of local holiday markets around the region.
And here's a big list for this year...
This is a lot of markets, but it's almost surely not a comprehensive list. If there's market that's not on here and you think should be mentioned, please share it in the comments.
Basilica Farm + Flea
November 23-25 | Basilica Hudson
This is the sixth year for Basilica Farm + Flea, and it's very popular. "Born Thanksgiving Weekend 2013 as an antidote to big box Black Friday, Basilica Farm & Flea is part timeless flea and farmer's market and part 21st century craft and design fair. With over 10,000 square feet of raw space, Basilica Farm & Flea is the only market of this scale in the region." Friday, November 23 noon-7 pm / Saturday, November 24 10 am-6 pm / Sunday, November 25 10 am-6 pm -- admission is $5 for the whole weekend / free for kids under 12
Black Friday/Saturday Fair Trade Market
November 23-24 | Delmar Presbyterian Church (585 Delaware Ave)
This is the 9th year for the Fair Trade Market. "A huge array of fairly traded, hand crafted giftware offered by multiple vendors and gathered from over 50 fair trade cooperatives in developing countries. Jewelry, accessories, apparel, home accents, holiday decorations, coffee, tea, chocolate and much more." Friday, November 24 and Saturday, November 25 10 am-3 pm
Holiday Open House at The Shirt Factory
November 23-25, December 8-9 | The Shirt Factory in Glens Falls
"We have open studios on all four floors of the building (come see what those artists are doing behind the closed doors), and guest vendors in the halls. This year we will have a pop-up cafe, a letters to Santa station and more way to create holiday fun with your friends and family." 10 am-5 pm each day
Handmade at The Hollow
November 24 | The Hollow in downtown Albany
"Get a handmade start to your holiday shopping at Handmade at The Hollow! Crafters, makers and artisans are coming together to offer you the finest array of candles, soaps, art, confections and much more!" Saturday, November 24 10 am-4 pm
Saratoga Craft Marketplace
November 24 | Saratoga Springs City Center
The annual sale -- now in its 43rd year -- includes more than 145 artisans selling handmade crafts. Saturday, November 24 10 am-4:30 pm -- admission is $5 / kids under 12 are free
The Round Lake Holiday Artisan Market
November 29 | Round Lake Village Hall
"The Round Lake Artisans Holiday Market is an intimate gathering of the talented artists and artisans who live in the Village of Round Lake. They will be offering a variety of unique, locally handmade items, perfect for gift giving." Thursday, November 29 4-8 pm
Fort Orange Holiday Market
November 30, December 7, 14, 21 (Fridays) | Arcade Building (488 Broadway in Albany) and Fort Orange General Store (412 Broadway)
"The market will feature a wide selection of vendors selling locally made and sourced goods, entertainment, art exhibits, and more." 5-9 pm each night
Saratoga Fair Trade Market Expo
November 30-December 1 | Saratoga Springs City Center
"20 Vendors from the USA and around the globe selling beautiful gifts for your holiday shopping. Fair Trade supports small crafters and farmers with an opportunity to earn a living and support their families." Friday, November 30 3-7 pm and Saturday, December 1 10 am-4 pm
Hamagrael Craft Fair
December 1 | Hamagrael Elementary School in Delmar
It's the 35th year for the annual fair, with more than 90 vendors. Saturday, December 1 10 am-4 pm
Half Moon Market Holiday Pop-Up at Flower Scout
December 1-2 | Flower Scout (137 2nd Street in Troy)
From the organizers of the Half Moon Market: "12 vendors, super local handmade goods, hot beverages + festivities!" 11 am-5 pm both days
Irish Christmas Market
December 1 | Irish American Heritage Museum in Albany
"We will have local vendors selling a variety of handmade jewelry, cakes, pictures, and other crafts. A huge selection of gently read books will also be available. And of course, who can resist soda-bread, shepherd's pie, or hot chocolate?!" Saturday, December 1 11 am-5 pm
Holiday Makers Market at Arlene's
December 1 and 15 | Arlene's Artist Materials on Fuller Road
"Each date will feature 6 different local artists and artisans and their unique creations. Come experience what truly talented makers work throughout Capital Region and take something home for the Holiday, or yourself, while you are at it." 11 am-4 pm each day
Taste NY Holiday Market
December 2 | State Museum
"Celebrate the holiday season at the New York State Museum's 5th Annual Taste NY Holiday Market! Stroll through the halls of the Museum while shopping and sampling 'made in New York' food and beverages from dozens of vendors, including hand-crafted beer, wine and spirits, cheese, chocolate, apple and maple products, and other edible goodies." (Also: The tree lighting on the ESP is that evening.) Sunday, December 2 11 am-4:30 pm -- free
Historic Holiday Market Trail
December 2-16 | Albany Barn and the Ten Broeck Mansion
"[A] series of artisan vendor events offering art and handcrafted items, musical performances, DIY crafting sessions, and more." In addition to the market, there will also be tours and talks (some of the events are ticketed). various times, see the schedule at the link
Babes in Troyland
December 8-9 | Takk House in Troy
"We are going to have over 25 vendors slinging their wares and teaming up with the Ruck once again to bring you custom cocktails and snacks while you play! We will also be welcoming new Troy business, Bard & Baker, who will be setting up a pop up board game room with coffee and baked goods for your enjoyment! To continue the Troy tour, Enigmatic Escapes will be setting up an escape room on the third floor. " Saturday, December 8 1-7 pm and Sunday, December 9 11 am-4 pm -- $5
Altamont Victorian Holiday Celebration & Winter Market
December 9 | multiple locations in Altamont
Multiple vendors at multiple locations in the village. Sunday, December 10 noon-5 pm
Shaker Christmas Craft Fair
ongoing through December 19 | Shaker Historic Site in Colonie
"Our traditional Christmas Fair promote the holiday spirit with regional artisans featuring handmade pottery and jewelry, foods and treats, and much more! Choose unique gifts for your loved ones while helping support local business this holiday season." Monday-Saturday 10-5 pm and Thursdays until 8 pm
____
Fort Orange General Store and the Albany Barn advertise on AOA.