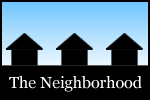 Among the topics in this most recent spin around the Capital Region's online neighborhood: a dinner delivery checklist, freeing up a seat, the Gravel Gobbler, the Hundred-Acre Woods, the bridge of the Enterprise, The Suffers, Melt N' Toast, Hank Hudson Brewing Company, deli meat, Dutch roots, Nicky's upper and lower, a family home, and marriage advice.

Chuck ran through his checklist for delivering Thanksgiving meals for Equinox.
Roger observed some less-than-great bus etiquette.
Jen rode the Gravel Gobbler in Rensselaer County.
Jackie took a cold walk through the Hundred-Acre Woods.
Albany Jane visited the Star Trek set tour in Ticonderoga.
Silvia grooved with The Suffers at The Egg.
Daniel recapped the entries at Melt N' Toast.
Matthew posted a bunch of pics from the new Hank Hudson Brewing Company in Halfmoon.
Ashley tried some of the products from the new Old World Naturals deli line.
The Friends of Albany History examined this area's Dutch roots.
Carl told the story of Nicky's, upper and lower.
Christopher highlighted the history of a family home off Second Ave.
And Rob shared some marriage advice.