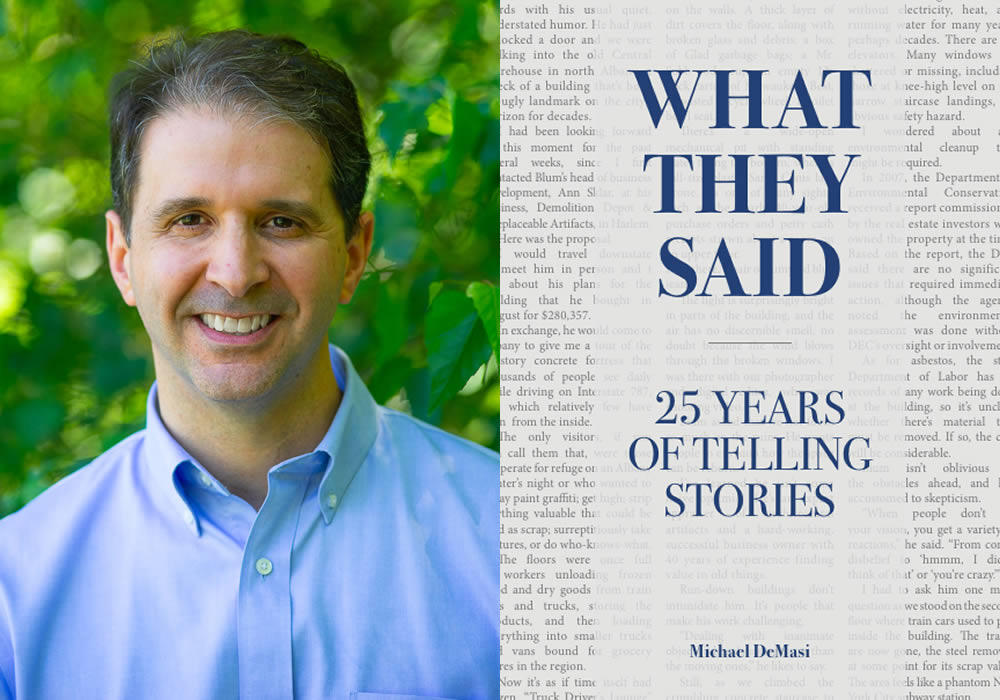 Check it out: Longtime Capital Region journalist Michael DeMasi has a book coming out that's based on the many stories he's covered around this area.
Blurbage for What They Said: 25 Years of Telling Stories:
A salvager who bought downtown Albany's biggest, ugliest building. An Irish priest lifting spirits at a maximum-security prison. A wealthy socialite whose 40 dogs eat organic chicken. A laid-off farmhand temporarily working as a human billboard. An upstate New York mayor who became the Pied Piper of Guyanese immigrants. A friendly clock enthusiast named Smiley Lumpkin.
They are some of the people Michael DeMasi has interviewed during more than 25 years in journalism. He shares what they and many others said in this collection of his favorite stories.
Mike is an ace reporter for the Business Review, and before that for the Daily Gazette and Post-Star. He is also, in our experience, consistently friendly and supportive toward fellow local media members. (See his 2016 remembrance of Marv Cermak, whom he credits for demonstrating how you can compete with others and still be friendly.)
What They Said will be available to buy starting next week at Market Block Books in Troy, The Open Door Bookstore in Schenectady, and The Book House of Stuyvesant Plaza, and online the following week from Troy Book Makers and Amazon.
Updated: There are also a handful of events lined up:
December 9: Reading/signing at Clifton Park-Halfmoon Library - 2-3 pm
December 16: Signing at The Open Door in Schenectady - 1-2:30 pm
December 16: Signing at The Book House at Stuyvesant Plaza - 3:30-5 pm
January 12: Signing at Market Block Books in Troy - 11 am-1 pm