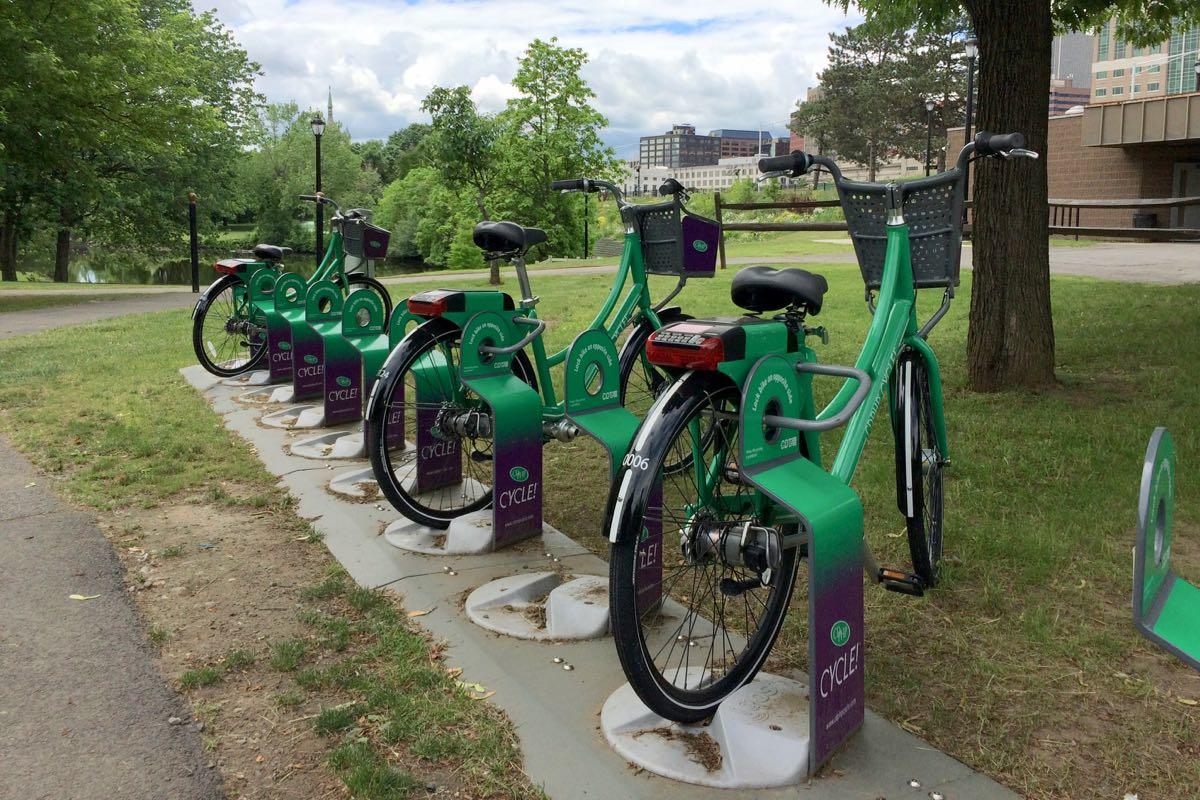 The bike share run by CDTA -- CDPHP Cycle -- wrapped up its second season last week, and the transit org reported this week that people took 23,535 trips on the bikes between April and the end of November. That's more than double the total of last year's season.
CDTA pushed to expand the program this year, doubling the number of bikes to more than 300, and increasing the number of rack locations from 40 to more than 70 across larger service areas in Albany, Schenectady, Troy, and Saratoga Springs. It also managed to get more than 4,000 new members for the system, bringing the total to almost 6,600.
And here's what CDTA's thinking about for next year...
(Also: The most popular hub locations and a few other numbers.)
Targeted expansion
"I don't the think the system's going to grow a whole lot [next year], probably some modest expansion, targeted expansion," said CDTA CEO Carm Basile this week at an event wrapping up this past season.
Possible spots for expansion: smaller downtowns not currently included in the coverage area, college campuses, and maybe some of the institutions and employers with which CDTA has "universal access" agreements in which people associated with those orgs ride for free.
Toward the end of this past season CDTA included bike share in RPI's universal access plan, the first time it's done that. And Basile said the early result was very encouraging.
"It's amazing, it's a very short time at RPI, but you can see the ridership gain in Troy."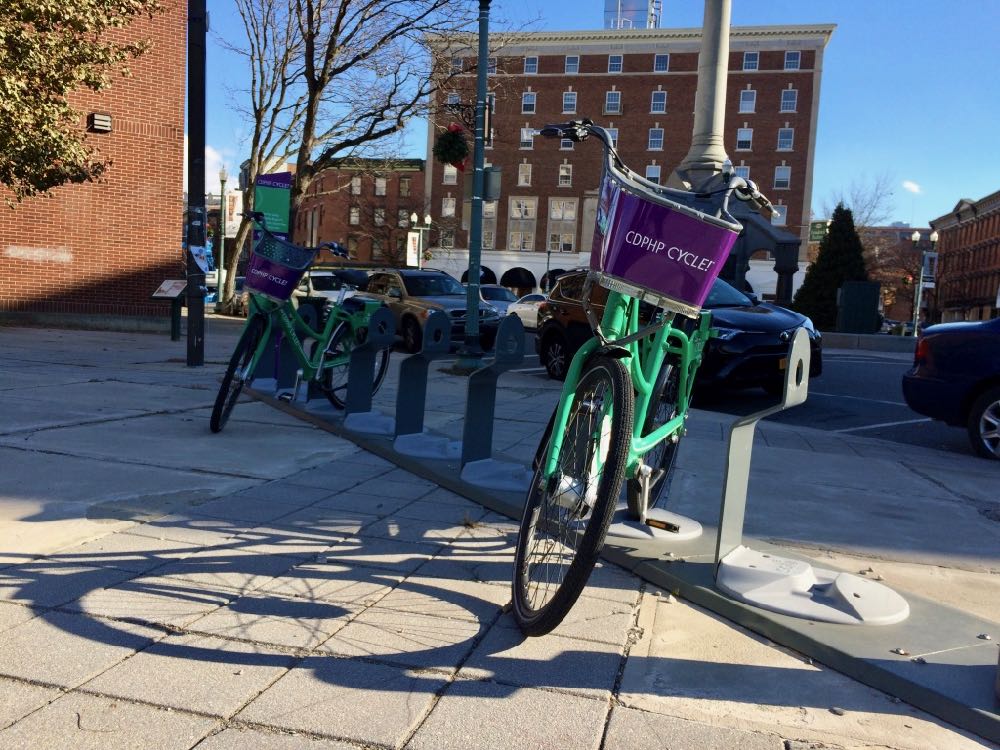 Trying to spur growth in Troy and Schenectady
Albany is the epicenter of the bike share system's popularity. And the bikes get a lot of use in Saratoga during the summer. Troy and Schenectady... not so much. How to change that?
"The easiest thing to do is just to add more stations and more bikes in communities [where the service] hasn't been perhaps as popular. But I think you have to be a little more strategic about it," Basile said, pointing to the recent universal access experience with RPI.
So, maybe that means setting up a similar agreement with Union College or SCCC or, as Basile mentioned, even something at a place like Mohawk Harbor and its growing residential component.
"Schenectady and Troy have lagged," Basile said. "I look at it as a challenge in the small communities to educate and entice people to use it."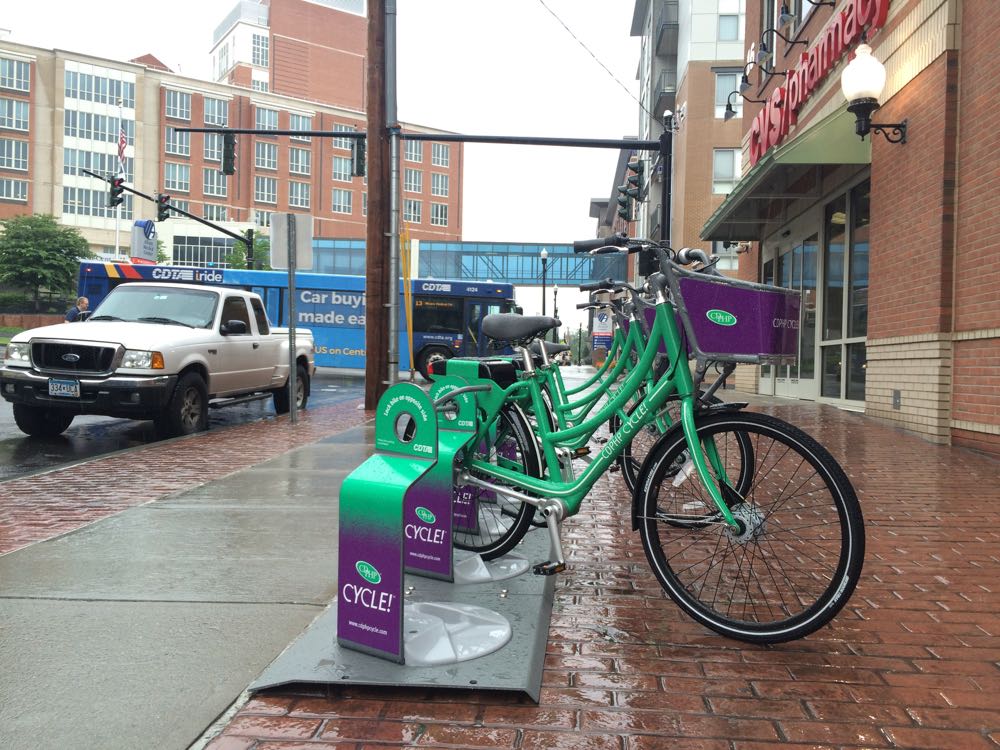 Keeping an eye on how people use bike share
Now with two seasons worth of experience and data for bike share, CDTA says it's starting to get a sense of how people are using the bikes. And some of those uses are pretty much what you'd expect. Spots such as Corning Riverfront Park in Albany and Saratoga Spa State Park get a lot of use, presumably from people taking bikes out to pedal around recreationally.
But the picture starting to emerge in Albany is a little more textured and interesting. Basile said the numbers and observation point to many people using the bikes for what he described as "purposeful" trips -- commuting, running errands, or to connect with a bus line.
(An example of the data that suggests this sort of use: CDTA's Lauren Bailey -- who's been overseeing the bike share program -- says there are spikes of trips during morning commute times, a day part that doesn't match up with people using the bikes recreationally.)
One of the things that's interesting about these sorts of patterns is that they point to the possibility that bike share is, in some small way, becoming a regular entry on the overall menu of transportation options for some people, and it might even be filling in a few gaps.
Scooters?
The use of electric scooters -- specifically bike share-style "dockless" scooters deployed by private companies -- has been booming in a bunch of big cities around the country during the past year. And CDTA has taken note.
"Everywhere I go -- I was in Washington last week, Nashville a month or two ago -- there's scooters everywhere," Carm Basile said, also noting some of the safety and clutter issues associated with them. "But it's a mobility choice that people say they want."
In these other cities, the boom has largely been driven by venture capital-backed private companies such as Bird and Lime. But Basile said he's been thinking about whether there's a way for CDTA to maybe do scooters here in a way that works. Maybe. Eventually.
"If there's a way for us to be involved and we can add something, let's do it," he said.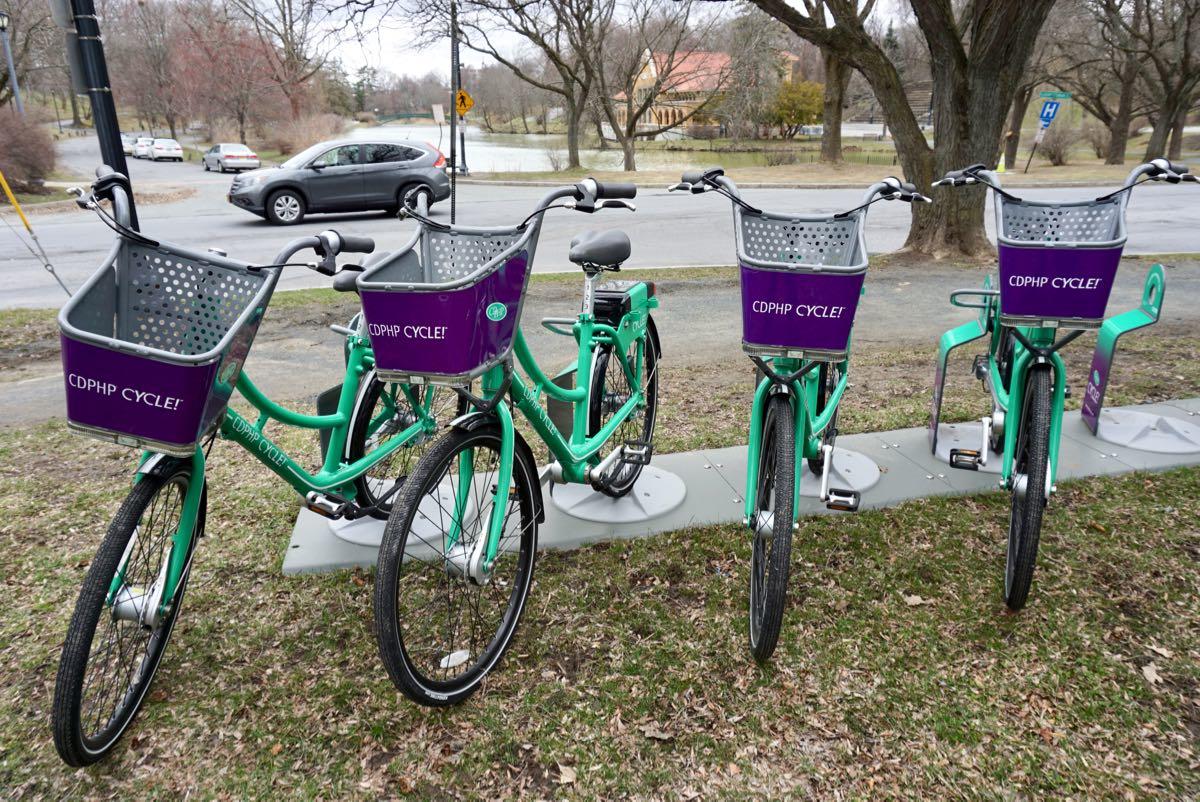 Bike share 2018 stats
Weekdays
Average trips per day: 89
Average trip duration: 26:28
Average trip distance: 2.2 miles
Weekends
Average trips per day: 200.5
Average trip duration: 36.07
Average trip distance: 2.8 miles
Top five most active hubs
1. Hudson River - Corning Preserve in Albany
2. Saratoga Spa State Park
3. Madison Ave and Lark Street in Albany
4. Madison Ave and Western Ave ("The Point") in Albany
5. Washington Park - Madison Ave and New Scotland Ave in Albany
(A hub is a rack location.)
Top roundtrip hubs
1. Hudson River - Corning Preserve in Albany
2. Saratoga Spa State Park
3. Albany Mohawk-Hudson Rail Trail
4. Washington Park - Madison Ave and New Scotland Ave in Albany
5. Ontario Street and Madison Ave in Albany
Top start-end hubs
1. 15th Street and Beman Park to 15th Street and Sage Ave in Troy
2. 15th Street and Sage Ave to 15th Street and Beman Park in Troy
3. Madison Ave and Lark Street to to Albany Medical Center
4. Ontario Street and Madison Ave to Madison Ave and Western Ave ("The Point") in Albany
5. Western Ave and North Lake to Madison Ave and Lark Street in Albany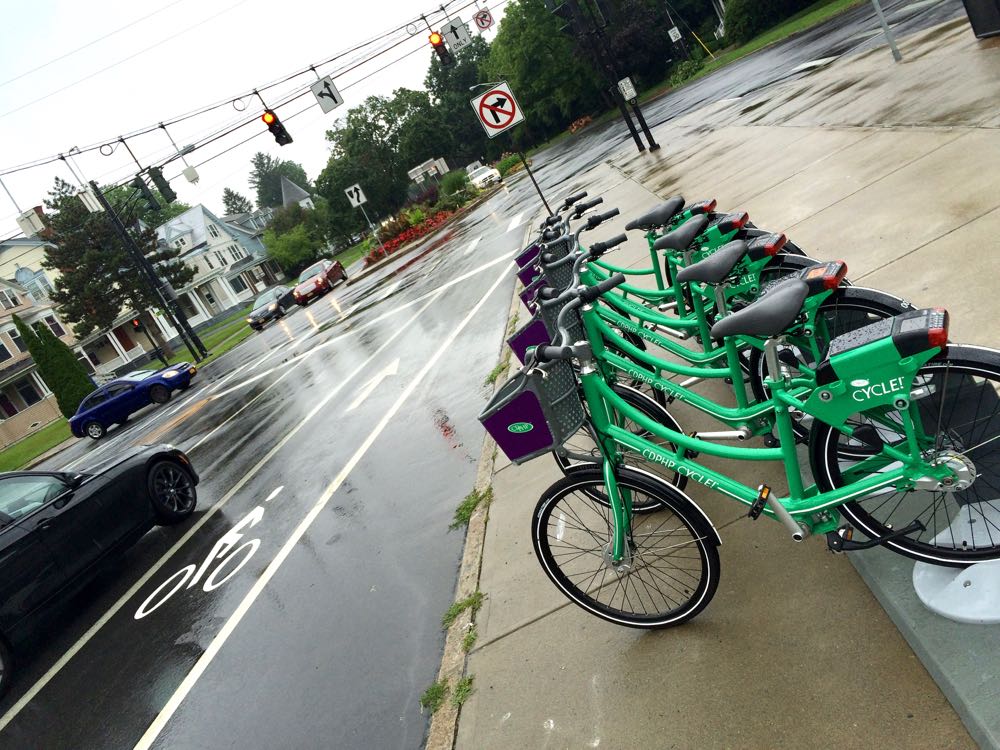 Budget bits
Carm Basile said the budget for the bike share program this year was about $800k. That's covered by CDTA, CDPHP sponsorship, a federal grant, and membership payments. A mix that's set to continue for next year.
Of that $800k, Basile said membership covers a little short of 50 percent. For some frame of reference, he said that fares cover about 25 percent of CDTA bus service.
____
CDTA and CDPHP advertise on AOA.
Hi there. Comments have been closed for this item. Still have something to say? Contact us.