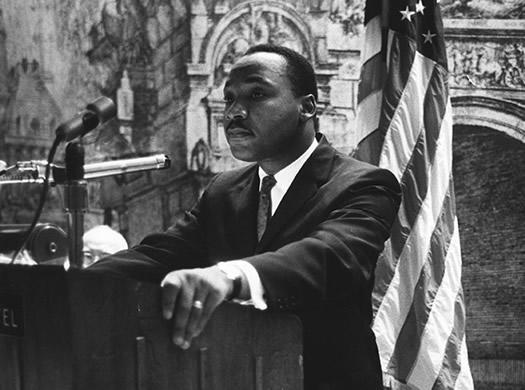 The Empire State Plaza will again host a celebration of Martin Luther King Jr on Martin Luther King Jr. Day, which is January 21 this time around.
The 2019 event will include a keynote speech by Rashad Jennings, the former NFL running back and Dancing With the Stars winner who's become a motivational speaker, author, and philanthropist. And it will feature a performance by Tony-winning Broadway vocalist Lillias White.
The celebration is Monday, January 21 in the ESP Convention Center. A volunteer fair starts at 9 am that day, and the program begins at 10 am. It's free.
Following the event at the ESP, the annual city of Albany Beloved Community March will stretch from the concourse entrance on Madison Ave to the King Monument in Lincoln Park for a wreath-laying ceremony. (There will also be a CDTA bus to transport people.) And the Albany City Hall carillon will play a concert at noon.
Dr. King Children's Essay & Fine Arts Exhibit
The state Education Department is again sponsoring an exhibition of student art inspired by Martin Luther King Jr. (Maybe you remember seeing the exhibit in the ESP concourse.) It's open to students enrolled in any K-12 program. And the deadline to enter is December 17.
AOA is a sponsor of events at the ESP.