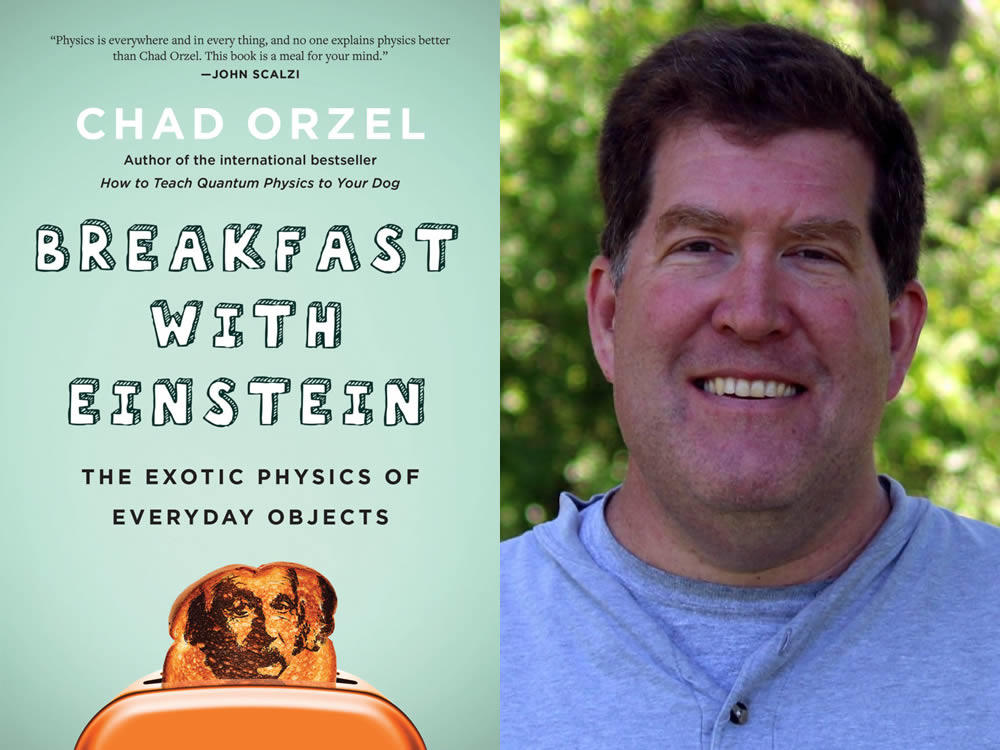 Check it out: Union College physics professor/science writer Chad Orzel has a new book out today called Breakfast with Einstein: The Exotic Physics of Everyday Objects. Blurbage:
In Breakfast with Einstein, Chad Orzel illuminates the strange phenomena lurking just beneath the surface of our ordinary lives by digging into the surprisingly complicated physics involved in his (and anyone's) morning routine. Orzel, author of How to Teach Quantum Physics to Your Dog, explores how quantum connects with everyday reality, and offers engaging, layperson-level explanations of the mind-bending ideas central to modern physics.
From the sun, alarm clocks, and the red glow of a toaster's hot filaments (the glow that launched quantum mechanics) to the chemistry of food aroma, a typical day is rich with examples of quantum weirdness. Breakfast with Einstein reveals the hidden physics all around us, and after reading this book, your ordinary mornings will never seem quite as ordinary again.
Orzel's previous book was Eureka: Discovering Your Inner Scientist . And How to Teach Quantum Physics to Your Dog was a Jeopardy! answer earlier this year.
(We're now looking forward to Waking Up With Newton and an explanation of why it's so hard to get out of bed in the morning.*)
Orzel will be at The Open Door Bookstore in Schenectady this Saturday, December 15 for a signing from 1-2:30 pm.
____
* Yep. That's a terrible inertia joke. Oof.
author photo via Oneworld Publications