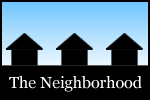 Among the topics in this most recent spin around the Capital Region's online neighborhood: a day in Troy, Thai food, pizza on the road, chili and chowder on Lark Street, tailgating at the Bills game, the baker's dozen, St. Paul's on Lancaster, William Seward, relaxing in the sauna, an attempted spa day, and a rainbow art piece.


Daniel spent a day at various spots around Troy.
Albany Jane stopped in at Pad Thai Noodle on Everett Road "to grab some face melting spicy hot Thai food."
Jon had some more tales of pizza on the road.
Steve judged the chili and chowder competition on Lark Street this past Saturday.
Rob sought out the epicenter of the tailgate scene ahead of the Buffalo Bills game.
The Friends of Albany History shared the fable of the baker's dozen and what's said to be its connection to 17th century Albany (Beverwyck).
Paul posted a photo of the old St. Paul's on Lancaster from the day after the state announced the area would taken for the Empire State Plaza.
Bob highlighted two old portraits of William Seward.
Kristi says she's become obsessed with the local Facebook Marketplace despite never making a purchase.
Katie found some delightful escape using the sauna at the Schenectady JCC.
Silvia tried to sign up for the spa day at the Abrookin Center.
And Chuck turned his photo of a rainbow behind the SUNY administration building into an art piece.