Items tagged with 'Breathing Lights'
The WMHT documentary about the Breathing Lights public art project -- Behind The Lights -- premieres on TV this Monday, April 17 at 10 pm.
There's a trailer embedded above. The doc followed the planning and implementation of the project.
There's an other airing this Friday, April 21 at 9 pm and Sunday, April 23 at 7 pm.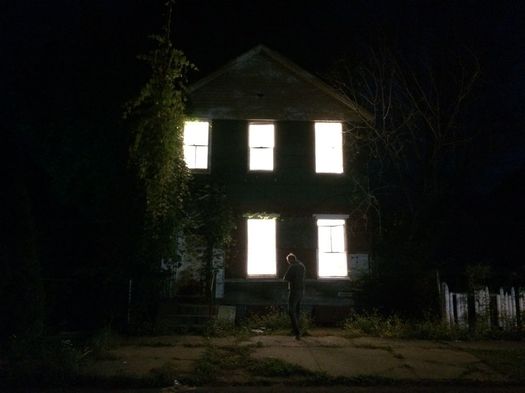 The official wrap-up for the Breathing Lights public art project is set for April 7 at Proctors. Blurbage:
Why spend a $1M on public art? What did we accomplish? What's next? Come find out. Breathing Lights will officially wrap with a networking lunch with Mayors Sheehan, McCarthy and Madden, live performances, screenings, lively policy discussions, a presentation of project impacts, and the debut of WMHT's Behind the Lights documentary.
The day includes a few different events. Each is $10, or $20 for all three. The screening of the documentary is free.
Here's a compressed schedule.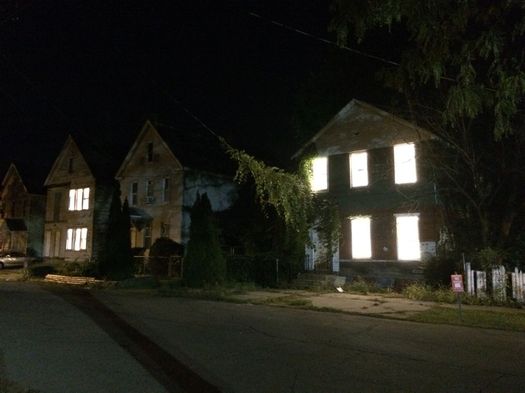 By Haley Viccaro
Now that the vacant buildings in Albany, Schenectady and Troy are no longer "breathing" light, what's next for the properties?

The land banks in the three cities, along with the cities themselves, are working to connect potential buyers with the homes in the hope they'll be repaired and occupied.
How's that going so far?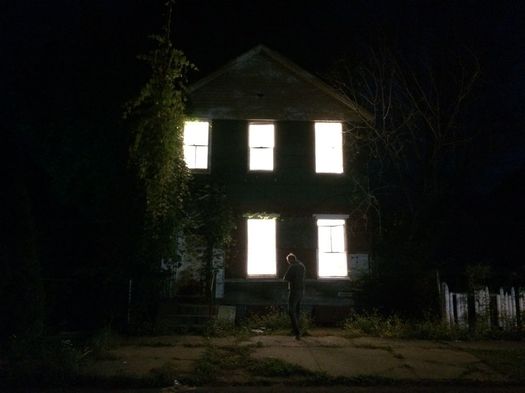 The Breathing Lights public art project -- has been lighting vacant buildings in Albany, Schenectady, and Troy over the past two months -- is now officially over. The pulsing lights in the buildings will go out gradually as the batteries run out.
There are still handful of events related to the project coming up:
Inside Breathing Lights
An Inside Breathing Lights exhibit will be on display at the Hamilton Hill Arts Center through February 17 (open 3-6 pm weekdays or by appointment).
There's an opening reception for it this Friday, December 2 from 6-8 pm. Blurbage: "A behind the scenes look at Breathing Lights and last chance to speak with lead artist and architect and take a guided tour. Learn about the technology and concepts behind the breathing lights effect, how the project was sited and documented, and how it connects with neighborhoods across the region."
Building reclamation clinics
The series of clinics about how to buy and restore vacant buildings continues over the next few weeks with the "toolbox B" workshops. The Sanctuary for Independent Media in Troy will be hosting a workshop December 8, the Schenectady County Business Center will also be hosting one that day, and the Capital South Community Center in Albany will have one January 28.
And the "toolbox C" workshop is set for February 8 at the Albany Barn.
Project finale and policy summit
There's a final event planned for April 7-8 at Proctors to review what was learned during the project and to show some of the works of art created in connection with the project.
____
If there were lessons learned or information gained or relationships formed during this project, they're going to be just as -- if not more -- important as the art project itself. The neighborhoods and cities deserve a good faith effort to spin this attention and money into real, positive change.
Earlier on AOA: Breathing Lights begins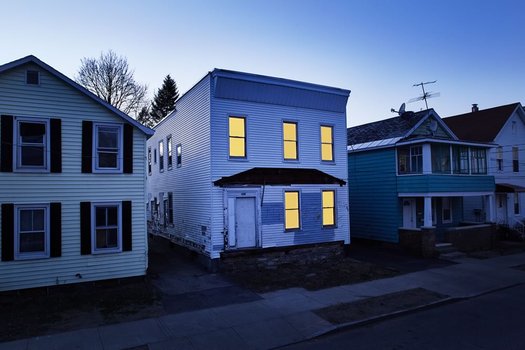 The lead artist and lead architect for Breathing Lights -- Adam Frelin and Barbara Nelson -- will be at the Opalka Gallery on the Sage Albany campus this Tuesday to talk about the large upcoming public art project.
Breathing Lights won up to $1 million from the Bloomberg Philanthropies Public Art Challenge. It's set to illuminate hundreds of vacant buildings in Albany, Schenectady, and Troy neighborhoods this fall. Project blurbage:
Warm light will fill each window with a diffuse glow that mimics the gentle rhythm of human breathing. Concentrated in neighborhoods with high levels of vacancy, Breathing Lights will transform abandoned structures from pockets of shadows into places of warmth.
This unprecedented, multi-city installation will also transform public streets into an evocative experience and will provide a platform to reinvigorate stakeholders around the Capital Region's most visible symptom of decades of disinvestment. Working with over 25 community and private-sector partners, Breathing Lights includes eight months of programming and events, including: youth media projects, building reclamation clinics, community arts presentations, policy discussions and more. ...
In response to a call for proposals from the Mayors of Albany, Schenectady, and Troy, Breathing Lights was designed to use one of the region's historical assets, lighting technology, to illuminate this issue, start conversations, inspire artistic expressions by citizen artists, and spotlight the efforts of reclamation in each community.
This project will get more attention as it develops this year, both due to its scale and because it's touching on an important topic in the Capital Region. It also prompts some questions about how such a project can respectfully work with the neighborhoods it'll be inhabiting -- and there's sure to be some skepticism.
So, if you're curious -- or have questions or concerns -- this seems like an opportunity to find out more directly from the people leading the project.
The event is Tuesday, May 3 at 6:30 pm. It's free.
North Central
This Wednesday the Sanctuary for Independent Media is hosting a meeting about vacant buildings in Troy's North Central neighborhood. It will include discussion about plans by Habitat for Humanity, the city of Troy, the Troy Community Land Bank, TRIP, and Breathing Lights. It's at 6 pm and it's free.
Earlier on AOA:
+ More details about Breathing Lights
+ Capital Region project wins national public art challenge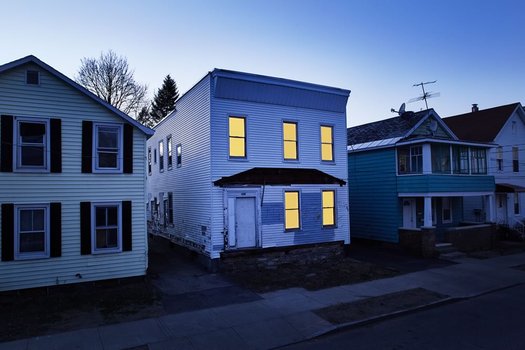 There are some more details out about the Breathing Lights public art project that's set for this fall in Albany, Schenectady and Troy.
You might remember this is the project that won a large grant in the Bloomberg Philanthropies Public Art Challenge last summer as part of a national competition. It will be illuminating hundreds of vacant buildings during eventing in October and November with pulsing, "breathing" interior lighting with the goal of generating interest in neighborhood development.
Project organizers recently completed a test of the concept at a handful of houses in Schenectady.
Here's a condensed outline of some events, along with some info about opportunities to get involved...