Items tagged with 'Brian Stratton'
The Cuomo administration officially announced this morning that Schenectady mayor Brian Stratton has been tapped to head up the the New York State Canal Corporation.
The announcement came bundled with three other appointments -- the relevant portion of the release is after the jump.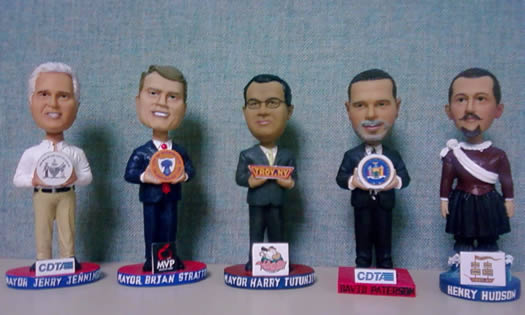 We have to admit to turning a bit green with envy when we saw Kim Mazor's lineup of Capital Region/New York State bobbleheads.
Kim's posted a bigger version on Twitpic.
The state legislature has agreed to cut about $1 billion from the state budget over the next two years, including a little more than $400 million from this year's budget. That falls short of David Paterson's $600 million goal. The cuts include $50 million in member items (that would be pork). [TU]
Paterson will be speaking at the Democratic National Convention next week in Denver. [NYT]
FEMA maps indicate that most of the City of Rensselaer is in a flood zone, but only six of the 60 homes and business affected by the recent flooding have flood insurance. One resident says no one told them they were in a flood zone. [WNYT]
An exercise rider at The Track died yesterday after being thrown from a horse Monday. [Saratogian]
Local colleges and universities are facing a housing crunch. Students are being forced to live in lounges and tripled up in rooms intended for doubles. [TU]