Items tagged with 'Corey Ellis'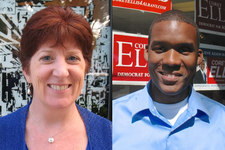 A Siena poll out this weekend reported that Kathy Sheehan leads Corey Ellis in the Democratic mayoral primary 68-20 -- and that's with 92 percent of respondents saying they've either made up their mind or are unlikely to change it.
The poll result isn't really surprising. Sheehan had a large lead in a Siena poll released at the beginning of August, and if a voter was leaning in her direction there probably isn't much that's happened in the interim that would shift that decision. It's not that people seem to dislike Ellis -- 58 percent said they have a favorable opinion of him. It's just that people like Sheehan more -- 76 percent said they have a favorable opinion. (And 65 percent said they have a favorable opinion of Jerry Jennings.)
The thing we took away from the poll results: People appear to be expecting that Sheehan will make a significant difference for the city.* Three-quarters of respondents have a favorable opinion of her. The same number say they're satisfied with the choices for mayor. And when asked, "Overall today, do you think a Mayor of Albany is capable of successfully addressing the problems facing Albany or do you think the
problems are too large for any Mayor to address?" -- more than 70 percent said they think the mayor is capable of successfully addressing the problems facing the city.
It'll be interesting to see how people react if a Sheehan administration hits some speed bumps. It's not like that's necessarily a low-probability event -- however well prepared and planned an administration might be, things almost never go exactly to plan. And Albany definitely faces some rough stretches, particularly in closing the city's budget gap.
* Well, duh, they say they're going to vote for her. But sometimes people vote for the the candidate they think is the least-bad choice.
Earlier on AOA:
+ Albany mayoral candidate interview: Corey Ellis
+ Albany mayoral candidate interview: Kathy Sheehan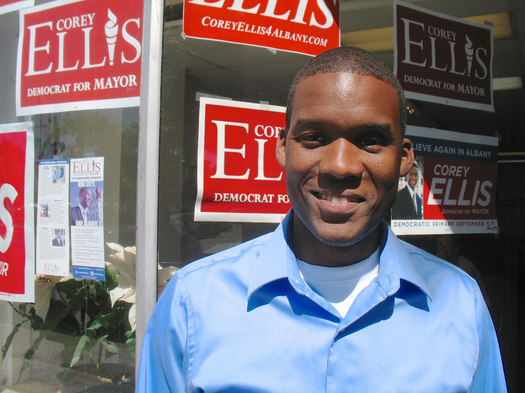 For the first time in 20 years, Albany will have a new mayor next year. The changeover is important not just for the city itself, but for the tens of thousands of people who go there each day for work or entertainment. Even if you don't live in Albany, what happens there probably affects you in some way.
The key point in the process of electing the next mayor is next Tuesday, September 10, primary day. Because the voter registration in Albany is overwhelmingly Democratic, the winner of the Democratic primary for mayor will almost certainly win the general election.
This week we talked with the two Democratic competing in the primary -- former common councilman Corey Ellis, and current city treasurer Kathy Sheehan. We asked them each the same set of questions on a range of issues -- from why they want to be mayor, to an aquarium downtown, to what books have influenced them -- and we're sharing those answers at length. The Q&A is set up so it's easy to scan and focus on the questions that interest you.
First up: Corey Ellis.
Update: Here are the responses from Kathy Sheehan.
A bunch of local media outlets are reporting that three teens have been arrested for the murder of UAlbany student Richard Bailey last year in Pine Hills. The suspects are scheduled to be arraigned this afternoon.
According to the TU, one of the suspects is Jamell "King" Modest. He was the subject of a gripping, sad and ominous Metroland cover story by David King back in 2007:
[Corey] Ellis met Modest about a year ago. He got a call from Modest's aunt. "She said, 'I hear you help young men.' I told her that I do," recalls Ellis. Ellis then met Modest and talked to him like he was a real person, not some street kid, a criminal, or a pariah unworthy of his attention. After that, Ellis brought Modest to a peer-mentoring program at the Arbor Hill Community Center. That is when Ellis says he realized Modest's ability to influence his peers.

"You gotta just pull them out one by one," says Ellis.

But Ellis realizes despite the fact that he grabs Modest off the street whenever he can, even though he is willing to go out of his way to find him and give him something to do other than hang on the street, trouble is still waiting.

"It is that one day that I am not there. That single moment. I see it when he is away hanging with his friends for a while. He changes. Then, when he is back with me, he is himself again."

...

"People have told me King is going to break my heart," says Ellis. "I told 'em to wait and see. This young man is special."
Definitely read the whole thing.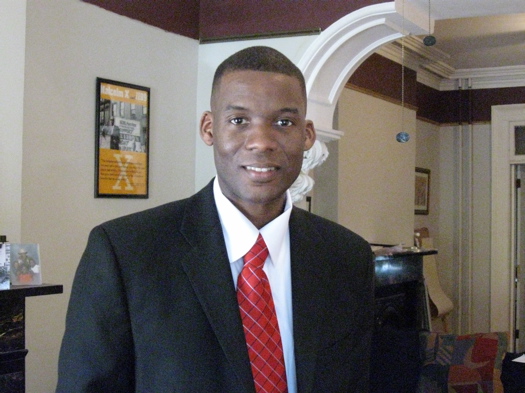 As promised, here are the video answers from our conversation with Albany mayoral candidate Corey Ellis. Answers from Shawn Morris, who's also running for mayor, were posted last week. We hope to get time with other candidates at some point, too.
We asked Ellis a bunch of questions -- including many that you suggested. The video is posted after the jump. It's arranged so that you can watch him answer each question individually.