Items tagged with 'Harold Ford'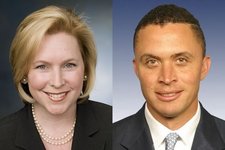 Both the NY Post and NYT are reporting that Harold Ford has decided to not run against Kirsten Gillibrand for the US Senate.
From a NYT op/ed by Ford that will run in Tuesday's paper:
"I've examined this race in every possible way, and I keep returning to the same fundamental conclusion: If I run, the likely result would be a brutal and highly negative Democratic primary -- a primary where the winner emerges weak-ened and the Republican strengthened."
A Siena poll out last week reported that KG led Ford 42-16 in a hypothetical primary matchup -- even though many voters statewide were less than certain about her overall candidacy.
So, who's up next?
The word going around of late has been that Mort Zuckerman -- the owner of the New York Daily News -- has been thinking about possibly running on the Republican line. Zuckerman has mainly been a supporter of Democrats -- but apparently he thinks a run as Republican could bypass a messy primary. [CityFile] [NYT] [OpenSecrets] [NYT]
Or, so it would seem from a Siena poll out this week.
The poll reports that voters continue to want someone other than David Paterson to be governor, continue to like Andrew Cuomo, continue to be unsure about Kirsten Gillibrand, and continue to think the state is headed in the wrong direction.
A few highlights after the jump.
You kind of get the feeling that Kirsten Gillibrand had just about enough of all the Harold Ford stuff yesterday. After tweeting about his "parakeet" comment, she then proceeded to seek out the media in an effort to repeatedly slam Ford.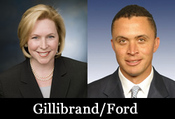 To the AP: Ford was "unable to convince Tennessee voters to trust him or put their vote in him, and now he's moved to New York and thinks he should be senator."
To the TU: "I don't know who he thinks I am, but I'm certainly not going to be pushed aside by him and a few of his banker buddies." (Ford is on leave from Bank of America/Merril Lynch.)
To the NY Daily News: "He waltzed into his father's congressional seat after failing the bar. And then he comes to New York City and joins a big bank, and is now running with a few banker buddies and thinks he should be in the US Senate."
To the New York Times: "For him to say he is an outsider and an independent is laughable."
To the NY Post: "All we know about him is his record, which is abysmal for New York."
In polls people keep saying they don't know enough or have no opinion about KG. If this keeps up, you gotta think that will change -- for better or worse.
By the way: there is someone who has officially announced a challenge to Gillibrand for the Democratic nomination -- though his mom seems concerned that he's spending too much on campaign buttons.
Oh, yeah: In that clip above, Stephen Colbert named Harold Ford "Alpha Dog of the Week," in part for "Lifting your leg on New Yorkers and telling us it's just egg cream."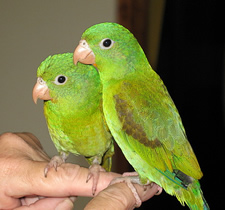 At the Capitol yesterday in Albany, Harold Ford said this about Kirsten Gillibrand and Chuck Schumer:
"Understand that you are not elected to the United States Senate to be a parakeet, or take instructions from the Democratic leadership."
To which Kirsten Gillibrand (or whoever tweets for her) responded around noon today via Twitter:
"Parakeet?" I wouldn't allow my 6 yr old to engage in this kind of namecalling. And HF thinks he should be Senator?
Presumably she also wanted to add: "I'm rubber and you're glue, whatever you say bounces off me and sticks on you" -- but, well, you know, Twitter limits you to 140 characters.
Ford is also on Twitter. Sadly, there have been no @ responses between the two. Yet.
By the way: Ford had an op/ed piece in NYT yesterday about how the Democrats could chart a "better course."
Earlier on AOA:
+ Describing the candidates
+ Does she sound like a senator?
+ The quick scan of Ford/Gillibrand
photo: Flickr user Young in Panama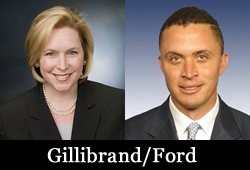 We couldn't help but notice the juxtaposition in coverage of Harold Ford and Kirsten Gillibrand this past weekend.
From the New York Times:
Mr. Ford, a five-term congressman from Tennessee, has given himself until the end of February to decide whether to challenge Senator Kirsten E. Gillibrand in New York's Democratic primary, but in the first week of a statewide tour, he is quickly revealing what kind of candidate he would be: an effortless retail politician, equally at ease in baroque restaurants and Baptist churches, who makes instant, Clinton-like connections with voters.
And from the New York Daily News:
Sen. Kirsten Gillibrand is turning herself into a leaner, meaner campaigning machine - showing a slimmer silhouette as a tough election battle looms.
Gillibrand (D-N.Y.) confirmed to the Daily News what observers have been noticing in recent months - she's dropped some pounds.
She declined to say how many, but outsiders are betting 15 to 20.
Let's just go on the record right now: we won't even think of voting for Harold Ford until we know how many calories he eats each day.
By the way: Ford is at the Capitol in Albany today and says he's strongly considering a challenge to Gillibrand for the Democratic nomination. [@kaitlynross1] [@WNYT]
Earlier on AOA:
+ Does she sound like a senator?
+ The quick scan of Ford/Gillibrand

A Siena poll out this week reported that only 29 percent of respondents said they would like to vote for Kirsten Gillibrand for US Senate in November -- 45 percent said they preferred someone else. That's a trend that's pretty much held steady since KG was appointed to replace Hillary Clinton a year ago.
So why don't voters seem to warming to Gillibrand? The NYO's Reid Pillifant recently offered a theory that was new to us: it's KG's speaking voice. From his Pillifant's piece:
"Kirsten Gillibrand has what I would call a non-regional American young female's accent," wrote Dr. Bert Vaux, a sociolinguistics scholar at the University of Cambridge, who was asked by The Observer to analyze Ms. Gillibrand's public speaking. "Though I lack the phonetic expertise to put my finger on what exactly is involved in this, her voice quality is of the sort that is typically associated with pre-workforce-age white American females. Judging by the case of this woman, this speech pattern has now extended into higher age ranges."
Pillifant goes on to note that Harold Ford is an excellent public speaker. Here's Ford speaking at a MLK Day event this week (with Gillibrand in the background).
We always thought the KG/Tracy Flick comparison was cheap and wrong. But we have to admit that when we watched her "accept" the appointment last January, we thought: "It kind of sounds like she's running for student body president."
A few other bits about Gillibrand/Ford after the jump.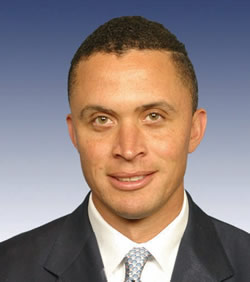 We've put off writing about the potential Harold Ford challenge to Kirsten Gillibrand all week.
It's probably because whenever the story's come up, we've just thought, "Dude. Run. Don't run. Make-up your mind. All this non-campaigning campaigning is boring." (Maybe we're fatigued by Andrew Cuomo.)
So it goes. Here's the quick scan of the whole week of will-he-should-he-what-if...