Items tagged with 'Lansingburgh'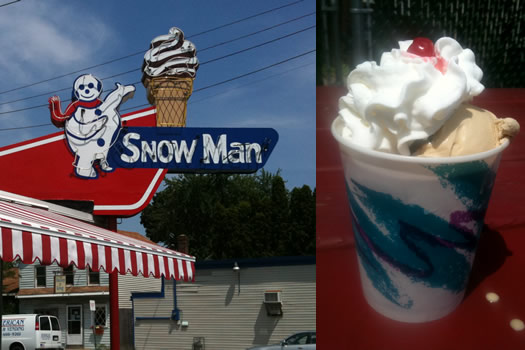 By Daniel B.
People around here go nuts over soft serve ice cream. They do. And in the spring, when the seasonal ice cream stands open, everyone flocks to their favorite place for what they insist is the creamiest soft serve in the region.
Soft serve has its place. There is a certain satisfaction of being handed an improbably tall cone, with a beautiful symmetrical swirl, brought to a point on top. And then there is the challenge and delight of attempting to finish the whole thing before it melts.
But soft serve is not what makes The Snowman in Lansingburgh special, although that's not to say it too doesn't have its fans. The proprietor will readily tell you that it just comes from a mix, like everyone else's. Still as I have learned, this fact does not mean all soft serve tastes the same.
What makes The Snowman special is their homemade hard ice cream. And what makes The Snowman very special is that there you can get a Boston Shake, which allows you to enjoy it two ways.