Items tagged with 'Malcom Smith'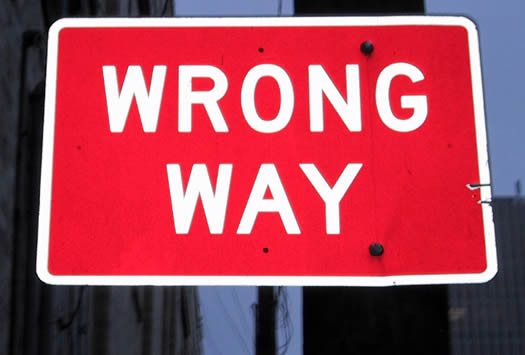 The Siena poll out today has some interesting -- if not necessarily surprising -- results.
People are still down on David Paterson (though marginally less so) -- but they've also turned against pretty much everyone else in state government (with one exception).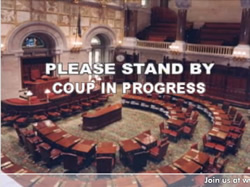 It looks like Republican have taken back control of the state Senate by getting two Democrats to caucus with them. Dean Skelos was voted majority leader (again) and Bronx Democrat Pedro Espada -- one of the two switchers -- becomes Senate president pro tem (he's also now the person who becomes governor if something happens to David Paterson). [TU] [NYDN] [AOA]
Here's a quick read of the coverage of yesterday's big switch...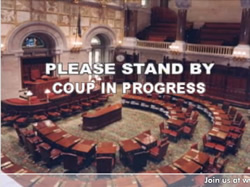 It appears the state Senate Republicans are in the process of taking control of the chamber again by getting two Democrats to switch parties. Pedro Espada and Hiram Monserrate appear to be the Dems who flipped, giving the Republicans a 32-30 majority. Dean Skelos will be majority leader again and Espada will become the Senate pro tem.
Republicans sent out a press release this afternoon telling the media to show up for "a historic change in leadership." Then as this was apparently all going down, the video feed from the Senate chamber was cut.
The move apparently caught Democrats -- including now-former majority leader Malcolm Smith -- by surprise.
As of 4:20 this afternoon, there was no mention of the switch on the Senate's web site or Twitter feed.
One of the immediate political consequences of the switch: the same-sex marriage bill now has probably no shot of passage this year.
Update: Malcolm Smith says the flip was "an illegal and unlawful attempt" -- and asserts that he's still majority leader.
Sources cited, in order: Capitol Confidential, Daily Politics, WNYT, Capitol Confidential, NYT
Troy mayor Harry Tutunjian has vetoed the 2009 budget passed by the city council. He says the council unlawfully shifted money into a contingency fund at the last moment. The council president says the shift was made to provide "oversight" of the contingency money. [TU] [Troy Record]
The Albany County legislature approved its 2009 budget, which includes a four percent tax increase. [TU]
A Schenectady County Court judge dismissed official misconduct charges against three Schenectady police officers yesterday. The trio had been charged with not turning on their patrol car's video camera and failing to fill out the proper paperwork following a DWI stop last December in which the suspect accused the officers of using excessive force. The officers have been on paid leave since then. [Daily Gazette]
A grand jury found that two Albany police officers were justified in firing their guns during a chase in September. Police say the suspect in the case pointed a gun at them. [TU]