Items tagged with 'New York State parks'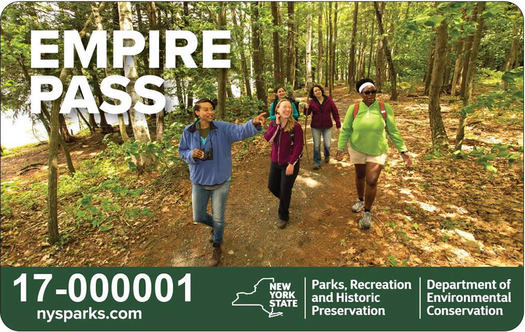 If you're a frequent New York State Park visitor the Empire Pass has been the most economical option for paying entrance fees -- $65 gets you unlimited entry for the year. So, anything past your 8th or 9th visit is free admission.
The downside: It has to be affixed to a car window.
Now there's a new option: The Empire Pass Card, which can be shared among members of a household and doesn't have to be stuck on a vehicle. The card is $80. Blurbage:
A new wallet-sized Empire Pass Card that can be shared within a household is now available. It's a family-friendly alternative to the traditional window decal, and not assigned to a specific vehicle. The new card can be used by parents, grandparents, caregivers and others.
The card is valid through December 31 of the year it's purchased. Here's the brochure with more info. And there's ordering info at that first link above (you can buy it online).
The Empire Pass stickers are still available, and they're still $65.
Multiple years
New York State Parks also offers multi-year cards -- $205 for three years, and $320 for five years.
There's also a lifetime Empire Pass for $750.
Noted: There is a Donald J. Trump State Park in New York State. Yep, that Donald Trump.
The park is basically a strip of undeveloped land along the Taconic Parkway in Putnam and Westchester counties. Trump donated it to the state in 2002 after a plan to build a golf course there fizzled. From a 2010 NYT article about Trump being miffed the park was on the state's closure list during budget cuts back then:
In Yorktown, in 2002, Mr. Trump withdrew plans to build a $10 million private golf course on land that included significant portions of wetlands, after encountering strict environmental restrictions and permitting requirements. He blamed the Yorktown supervisor, Linda Cooper, for thwarting his plans, telling her in a letter that she had "done a terrible disservice" to her constituents.
In an interview on Wednesday, Ms. Cooper, who has since left office, said that Mr. Trump "just didn't want to go through the rules."
"He called me, at one point," she recalled, "and said, 'Linda, just let me build the golf course -- I'm rich, you'll like it.'"
Mr. Trump said at the time that the land, zoned for residential use, was worth roughly $100 million, and that he could have sold it to a developer.
He gave it to the public instead, at the suggestion of his children, Donald Jr. and Ivanka, because, he said, it was "the best thing to do."
Buzzfeed reported today that state Senator Daniel Squadron, a Democrat from NYC, is pushing the Cuomo admin to rename the park -- "Bigotry has no place in presidential politics and certainly shouldn't be honored with a state park naming." There's a also a change.org petition to rename the park "to...anything else."
By the way: Donald J. Trump State Park is just a few miles of north of Franklin D. Roosevelt State Park. And the two parks share a "friends of" org.