Items tagged with 'Obama Albany'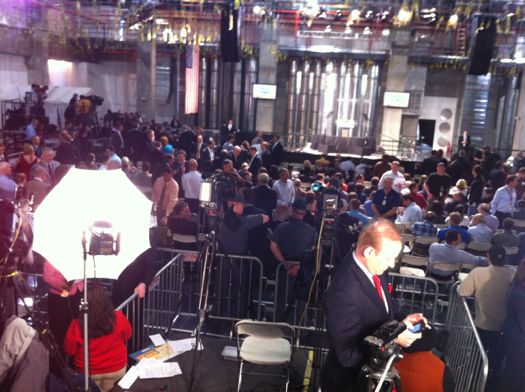 By AOA Mary
Hey, guess what? The president was in town today.
And, yes, I got to go to the event. And yes, I was excited about that. I was excited about what a presidential visit says about what's happening in the Capital Region, excited that the leader of the free world thinks this is an important place to visit, and excited that I got to hear him speak in person.
But I was a little less excited than I was the first time I covered a presidential visit -- and that's no reflection on the president. This is the third time President Obama has visited the Capital Region, and the second time I've covered his visit.
What's it like to cover a presidential visit? It's a compelling (not) story of press releases, protocol, twitter, 4G frustration, porto-potties, and hurry up and wait.
Here's how it goes...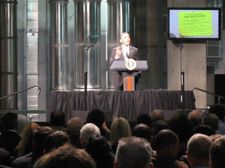 Here's a transcript of Barack Obama's remarks today at UAlbany, as transcribed by the White House. Reading through, it appears to be rather accurate -- it includes the "bless you" he said to a person in the front of the crowd who sneezed.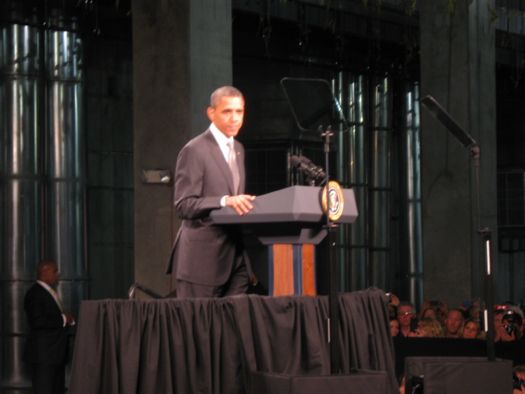 As you might have heard, Barack Obama visited Albany today for a tour and speech at UAlbany's College of Nanoscale Science and Engineering.
There was much tweeting and whatnot about it. Here is some of it.
The gray, rainy weather made it hard to spot Air Force One as it approached ALB today. But YouTube user MusicalDarkHorse caught video of it just before it landed.
Yep, it's a large airplane.
There's another AF1 clip after the jump.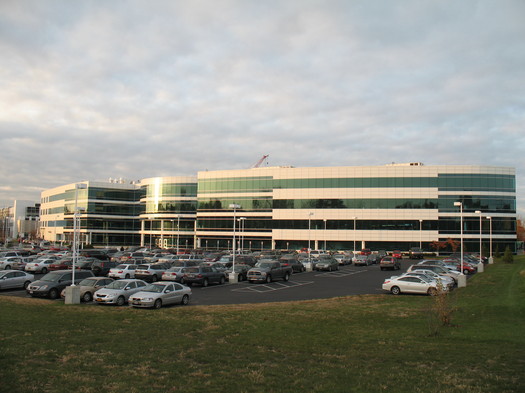 Change of plan: the White House says Barack Obama will be visiting the Albany area next Tuesday, but it will be at UAlbany's College of Nanoscale Science and Engineering -- not GlobalFoundries as earlier indicated.
From the White House press release:
On Tuesday, May 8, the President will travel to the College of Nanoscale Science and Engineering's (CNSE) Albany NanoTech Complex at the State University of New York in Albany, New York for an event on the economy. CNSE's Albany NanoTech Complex is a fully-integrated research, development, prototyping, and educational facility that provides strategic support through outreach, technology acceleration, business incubation, pilot prototyping, and test-based integration support for onsite corporate partners, including IBM, Intel, GlobalFoundries, Applied Materials, as well as other next generation nanotechnology research activities. Due to logistical reasons, the President's event will no longer be held at GlobalFoundries in Malta, New York but representatives from GlobalFoundries will join the President at CNSE. Governor Cuomo will also join the President at Tuesday's event.
Even though the specific venue is changing, the setting will still project the same message: Hey, look, there's sophisticated manufacturing in the United States.
And, logistically, Albany Nanotech is a lot closer to ALB than GloFo. (It really is the most efficient option for getting complicated machinery in front of the POTUS so he can feign interest in it.)