Items tagged with 'Richard Ravitch'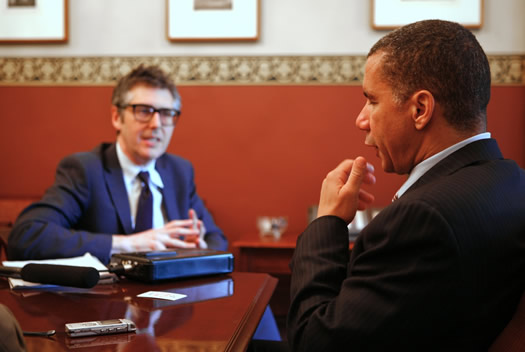 This week's This American Life featured a long segment about the New York State budget. During the setup for the piece, host Ira Glass says: "For those of you who live far from New York, you need to understand a few things about just how terribly run New York State is." And then he runs through all the scandals and drama (that part runs longer than many regular radio segments).
That all leads to the appointment of Richard Ravitch, whom Glass describes as the "hero of our story." Says Ravitch at one point, when asked if he felt like he was going to into a "madhouse" after being appointed to Lt. Governor (at Peter Luger):
Yes. But I'm also... this sounds terribly pompous, forgive me... but I have a kind of romance with the whole idea of government and public service. So, at the same time I knew I was going into a madhouse, I also, it was a matter of pride that perhaps I could be helpful and there was nothing more useful I could do with my life.
Ravitch later says: "I didn't know how serious the problem was. I didn't realize the state had been faking balanced budgets for so many years."
The piece includes a bunch of people from around the Capitol, including David Paterson, state budget director Bob Megna (and his non-state-funded stress balls), Ruben Diaz, public radio correspondent Karen Dewitt, YNN's Erin Billups, the singing of Jay Gallagher and NYSNYS's Kyle Hughes.
The piece is a good overview of how the state got into so much budget trouble. It's not a hopeful picture.
The show is available as a free download this week. It's also available for streaming.
photo: Paterson admin media images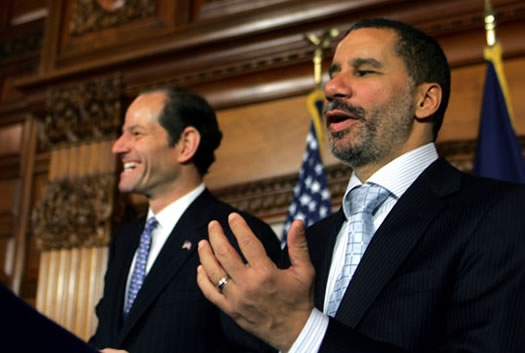 We've read (too) much of the reaction to David Paterson's decision to exit the race for the governor.
Here are a bunch of the quick-scan highlights -- about lame duck status, Paterson's work habits, calls for resignation, the budget, Andrew Cuomo and... yet another SNL skit.
New York State comptroller Tom DiNapoli now says the state's budget gap could be as big as $4.1 billion. David Paterson has said that he will release a slate of proposed budget cuts that would involve "pain." LG Richard Ravitch, who's helping Paterson with budget issues, says the plan will be "asking every agency in the government to cut back significantly." As bad as things might be this year, apparently the real problem is next year when the federal stimulus money ends. As one anonymous legislator told Liz Benjamin: "Then we're in deep sh*t." [TU] [NYT] [CapNews9] [Daily Politics]
Adrian Thomas, the Troy man charged with causing the death of his infant son, took the stand in his own defense yesterday -- and testified that he had lied during his videotaped interrogation by police. Thomas said he admitted to police that he slammed the child down so he "could go to the hospital and see my son and my wife." [Troy Record] [TU]
The Troy man shot in the head earlier this week has died. It's the third homicide of the year in Troy. The TPD says it's following leads. [Troy Record] [Fox23] [CapNews9]
Albany police have arrested two men -- one already in prison, the other 18 years old -- for a 2007 murder on Second Street. [TU]
The Lansingburgh High School student suspended for having a pocketknife in his car says he's been contacted by West Point and told the incident won't have any effect on his application to the service academy. [WTEN]
Steven Raucci, the now-retired Schenectady school district employee accused of arson, intimidation and harassment related to his former job, will receive a pension of $79,067 -- even if he's convicted. [TU]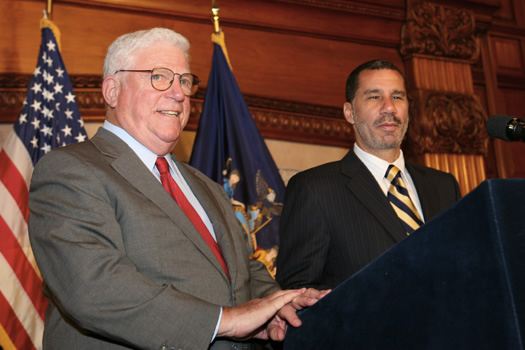 New York State now has a lieutenant governor.
The state Court of Appeals (New York's highest court) ruled today that David Paterson did have the authority to appoint Richard Ravitch to the vacant job.
Writes Chief Judge Jonathan Lippman in the 4-3 majority decision:
The issue on this appeal is whether the Governor of the State of New York has the authority to fill a vacancy in the office of Lieutenant-Governor by appointment. We now hold that he does.
The decision goes on to argue that the post of lieutenant governor falls under "a catch-all" provision of state law that allows the governor to make appointments for positions that don't otherwise have rules laid out for their replacement (lieutenant governor being one of these jobs).
From the dissent, written by Judge Eugene Pigott:
Under the majority's rationale, the possibility exists that the citizens of this State will one day find themselves governed by a person who has never been subjected to scrutiny by the electorate, and who could in turn appoint his or her own unelected Lieutenant-Governor.
photo: ny.gov