Items tagged with 'Samson Contompasis'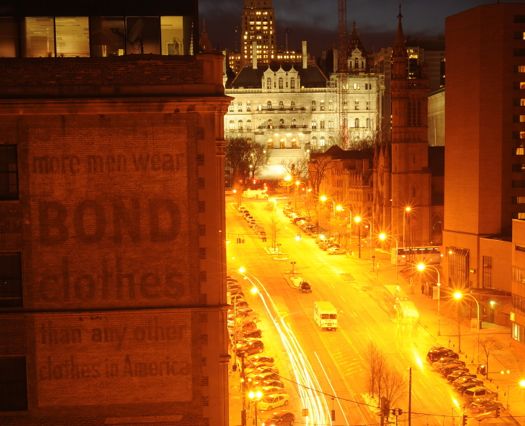 This year the Downtown Albany BID's Sculpture in the Streets project is titled "All Signs Point to Downtown" -- the BID is aiming to restore a handful of "ghost signs" around downtown. The announcement of the project and its call for artists prompted some interesting discussion about the idea this week, both critical and supportive. And the interest is understandable: this work will be on display for thousands of people all around downtown.
Among the people with a reaction: Samson Contompasis, a mural artist and the organizer of the Living Walls mural project. He reached out to AOA with some strong objections -- both artistic and practical -- and we thought it'd be interesting to share them here. We also talked with the Downtown Albany BID to get its perspective.
First up: Samson...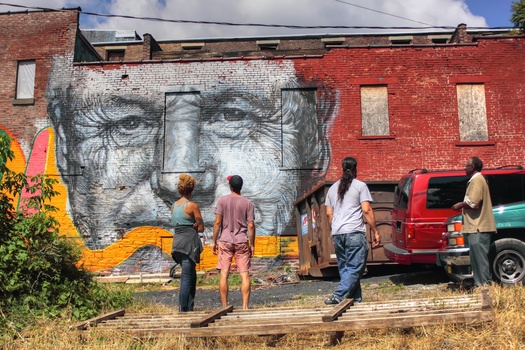 By Danielle Furfaro
Cities are living, breathing creatures. Like other living things, they thrive on positive reinforcement, growth and creativity. And sometimes they exhale the slow reek of decay. Samson Contompasis, owner and curator of the Marketplace Gallery, looks around Albany and sees beauty and possibilities everywhere. He wants to take decaying or barren vistas and make new life out of them, turning them into awe-inspiring pieces of art. So he's launched Living Walls, a public art project aimed at making Albany a bit more alive with art.
He's brought together a slew of mural artists, some local and some nationally regarded, to help create works of art around the city. The public art project will be accompanied by a lecture and workshop series that will run September 16 and 17.
You may have already seen the first completed wall, which is at 74 Livingston Avenue between Broadway and North Pearl Street. That one was done by the artistic team of Gaia and Nanook, who came up with the concept for the piece after touring Albany.
Samson loves to talk about the power of art, legal or illegal, massive or fleeting...