Items tagged with 'Spa State Park'
Check out this video clip of a lightning strike at the Saratoga Spa State Park last week.
A security camera at the SPAC box office captured the strike destroying a tree on June 3 around 5:15 pm. The video was posted on the park's FB page, and the above video is a higher-quality clip posted by the NWS Binghamton office.
The strike lights up the tree in a brilliant flash, and then the tree collapses in splinters and chunks. After you watch it at full speed, click the little gear icon on the video and watch it at .25 speed. (We put together a slo-mo gif of the clip -- it's after the jump.)
(Thanks, Tim!)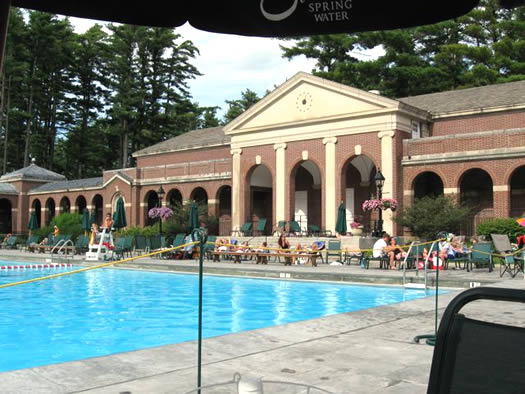 We mentioned this in STDTW, but it's worth highlighting: The Victoria Pool at Saratoga Spa State Park is opening for the season early this weekend.
The Victoria Pool is an excellent place to lounge while having a drink. There's a sort of casual opulence about it. Also: it has a pool. With water. That you can swim in.
The schedule for this weekend, and the next, and the next: 10 am-6 pm Saturday and Sunday. It's $8 for adults, $4 for kids and seniors, and free for kids under 5. The pool will be open daily starting June 22.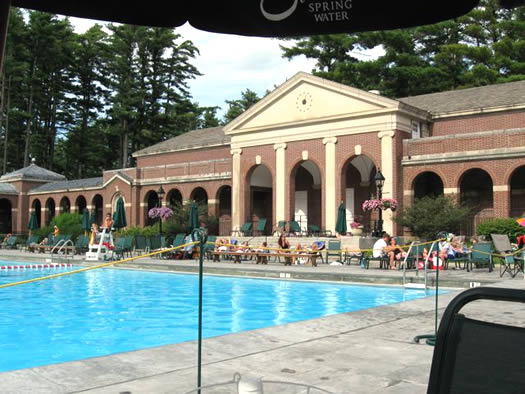 The Victoria Pool at Saratoga Spa State Park is scheduled to be open for the first time this summer this Saturday and Sunday. The pool will be open from 10 am to 6 pm both days. The pool is $8 for adults and $4 for kids (under 5 is free).
The forecast for this weekend: sunny and 80s.
The pool will be closed the following week, and then open for the season on June 23. It will be open every day until September 3.
The park's Peerless Pool will open for the first time on June 23. (It will be open every day after, except for Tuesdays.) The Peerless is $2 for adults and $1 for kids (under 5 is free).
The Victoria Pool is a lovely spot. Lounging poolside with a drink is a bit of affordable luxury.
[via Saratogian and Save The Victoria Pool Society]
Many layers of law enforcement announced today that they will be cracking down on illegal alcohol consumption in Spa State Park this summer during Live Nation concerts at SPAC. Among the points of emphasis: the park is an alcohol-free zone before, during and after concerts. From the release:
"... uniformed and plainclothes police officers and investigators will be looking for violations of the law and taking strong enforcement action which will include making arrests, issuing tickets, impounding vehicles, confiscating and discarding alcoholic beverages and ejecting violators from the park and concert venue."
Officers will also be using alcohol sensors to detect alcohol in unmarked containers.
(Thanks, Erik)
Disclosure: Yep, SPAC's classical series advertises on AOA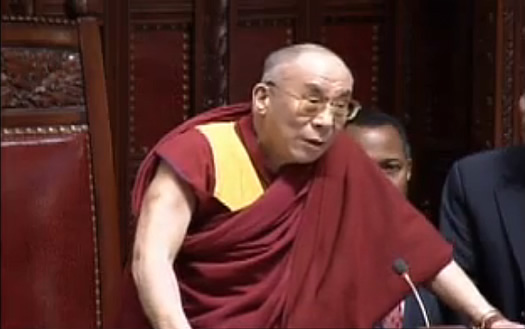 The Dalai Lama spoke -- very softly -- to a crowd of about 2500 people at the Palace Theater yesterday afternoon. About the controversy surrounding his off-then-on visit, the Tibetan spiritual leader said: "I had an invitation, so I accepted." -- he also implied that negative media reports about the World Ethical Foundations Consortium, the event's sponsor, were not truthful. Earlier in the day, the Dalai Lama spoke before the state Senate and joked that he felt an affinity with Republicans at the Capitol because he knows what it's like to be in the minority. [TU] [Daily Gazette] [TU] [Troy Record] [NYS Senate YouTube]
The Albany County budget is facing a $20 million gap because of falling sales tax income and cuts in state aide. County exec Mike Breslin called the gap -- which represents about 30 percent of the county budget -- "an emergency." [TU]
Police say a man was stabbed and killed on Bradford Street in Albany yesterday evening (map). A suspect is in custody. Another man was shot twice on Third Street later in the night. [CapNews9] [TU] [CapNews9]
A Schenectady County grand jury handed up a 26 count indictment against Steve Raucci, the former Schenectady School District employee accused of arson and terrorism. The indictment alleges Raucci was involved in 14 separate incidents. [TU] [Daily Gazette]