Items tagged with 'Thanksgiving'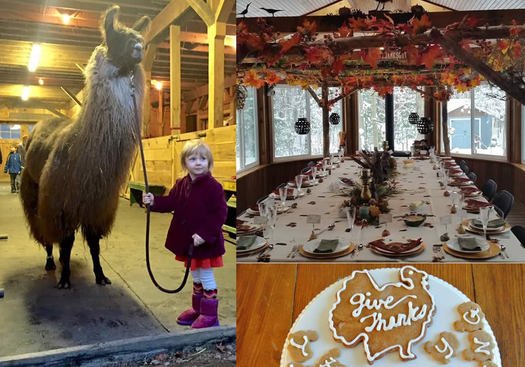 By Deanna Fox
I've been spending Thanksgiving the same way for nearly a decade: My parents drive to my house from Central New York, my mother brings chocolate pie, Finger Lakes Riesling and Martinelli's sparkling cider, dinner rolls, and squash, and I cook and bake everything else. My dad puts the snowblower on my tractor while the turkey cooks, and my kids, parents and I sit down in the afternoon to enjoy the meal together. Sometimes more friends and family are there, but usually it's the five of us.
Curious as to what Thanksgiving looks like in other parts of the Capital Region, I thought I'd ask around.
Here's how other locals celebrate the holiday...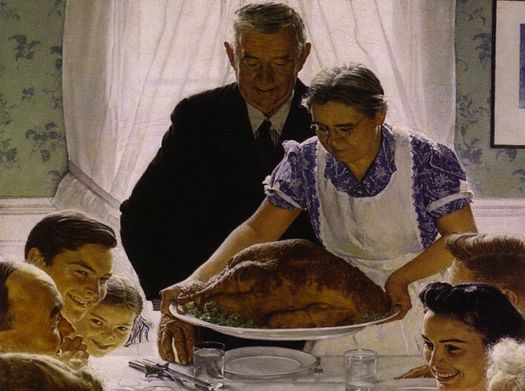 Some of you will spend Thanksgiving in a Norman Rockwell-esque tableau, basking in the warmth of family and friends, and taking advantage of the holiday to enjoy each other's company, reminiscing about holidays past, and catching up on what's new in each other's lives.
For others, though, no matter how much you may love your family, holiday get togethers can sometimes be an exercise in awkward silence, discussions of the moistness of the bird, whether you "made good time" on the road. Worse yet, they can devolve into holiday hits such as: "Why aren't you married yet?" "When am I going to get grandchildren?" and "Now, is that a real job, dear?"
So this year, we've pulled together a handful of local holiday conversation starters/savers with the hope they can help you avoid religion, politics, marriage, grandchildren, and other festive holiday land mines.
Got others you rely on? It's the season for sharing.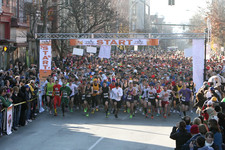 Just a heads up that registration for this year's Troy Turkey Trot is now open. The Thanksgiving morning event includes a 10k, 5k, walk, and kids mile. Also this year: a costume contest.
The registration fee for the 10k and 5k is $25 until October 31, increases to $30 until November 23, and $35 up until registration closes on November 25. The walk and grade school mile have a $10 entry fee. There's no day-of registration.
Last year's event included 8,167 participants. And organizers are expecting more than 8,000 people again this year.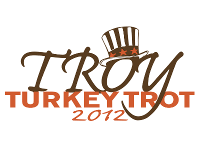 Registration for the 2012 Troy Turkey Trot is now open. The Thanksgiving morning event includes a 5k, a 10k, a kids run, and a walk. The registration fee for the 5k and 10k is $20 -- and there's no day-of registration. The kids run and walk are free.
From the blurbage (link added):
A slate of changes, such as a return to the traditional Turkey Trot course using an "out and back" format along River Street, will help make this year's edition truly memorable. Other modifications include: upgraded gender-specific, moisture-wicking t-shirts for the first 6,200 participants who register for either the 5K or 10K; custom-made commemorative finishers' medals to all open, age group and team winners; finishers' medals for Grade School Milers; and, a commemorative finishers' pin for all Turkey Walk participants.
What is Thanksgiving without moisture wicking?
After two years of conducting the race itself, the city of Troy has once again contracted out the operation of the race to the previous organizer. [Troy Record]
Organizers say they're expecting about 7,000 participants for this year's event. There were a record 7,100 participants last year. [Troy Record]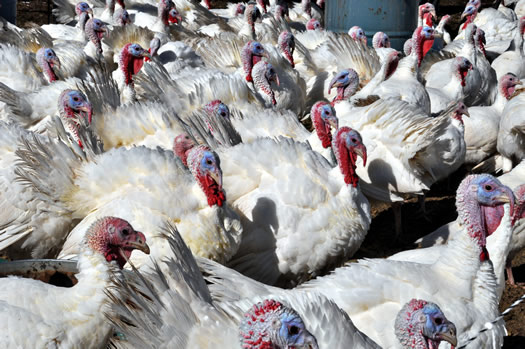 By Siobhan Connally
James Kromer doesn't talk turkey.
So as he was driving 200 squawking, day-old chicks by car from a 50-year-old turkey farm in Boston to his Coldwater Creek Farm, his family's 26-acre property in southern Rensselaer County, he just cranked up the tunes.
"They just chirped the whole time. After about an hour and a half it bothered me so I turned up the radio and opened up the windows for some white noise," laughs Kromer, an accountant by day, who is marking his second year raising antibiotic-free, pasture-raised white Broad Breasted turkeys for Thanksgiving.
So, how does an accountant end up raising 200 turkeys?