Items tagged with 'external validation'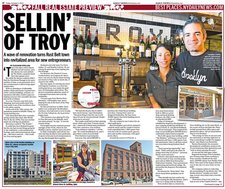 Oh, look, there's Troy, in a big feature in in today's New York Daily News. A clip:
"Troy is the place where Henry Hudson turned around," goes the chorus of a rock anthem by The Parlor, a popular band from this upstate town.
But while the famous explorer didn't find the Northern Passage to the spice markets of Asia, a new generation of urban entrepreneurs is discovering opportunities here.
With an abundance of affordable studios, shops and homes in grand turn-of-the-century buildings, artisans, restaurateurs, and other creative types are helping resurrect this venerable old town just north of Albany.
It goes on to mention the Confectionery, multiple residential/retail conversions, Ekologic, RPI and other names you'll recognize. If you've been following along with what's up in Troy lately, there's not much in the feature that you don't already know. But it's some pretty sweet pub for the city, especially in a publication the size of the Daily News.
A little more context for the feature: The author is Suzanne Spellen, who made a name for herself in New York as "Montrose Morris" on the popular Brooklyn Brownstowner site. Last year she made the move from Brooklyn to Troy, which got mentioned by the New York Observer.
As Spellen wrote on Brownstoner at the time: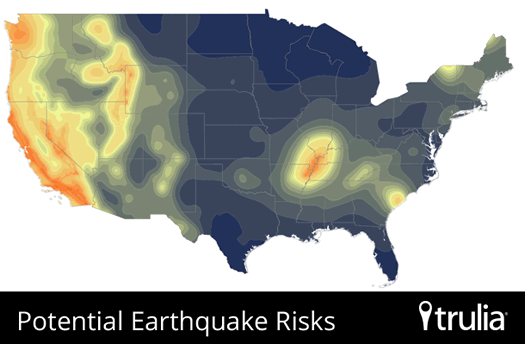 Upstate New York is among the "lower-risk" areas of the country for natural disasters, according to calculations/maps created by Trulia. The real estate website has been rolling out natural hazard maps -- for earthquakes, hurricanes, tornadoes, wildfires, flooding -- for locations across the country. (Example: Here's the flooding risk map for Schoharie.)
Specifically, Syracuse and Buffalo were ranked among the top-10 lower-risk metros:
1. Syracuse, NY*
2. Cleveland, OH
3. Akron, OH
4. Buffalo, NY
5. Bethesda-Rockville-Frederick, MD
6. Dayton, OH
7. Allentown, PA-NJ
8. Chicago, IL
9. Denver, CO
10. Warren-Troy-Farmington Hills, MI
* Trulia note: The data on flood risk, which comes from the Federal Emergency Management Agency (FEMA), is incomplete for Syracuse and for several other metros not on the ten lower-risk list.
As Trulia points out, lower risk is not the same as no risk. And there are natural challenges beyond floods and earthquakes:
Notice that we're not calling these "safe" or "low-risk" metros. It's all relative, and every metro has some risk. Even the 10 lower-risk metros, above, all have some natural disasters in their distant or recent past. This ranking, and our hazard maps, are based on the best data available: recent government assessments of flood, earthquake, and wildfire risk, and years of historical data on hurricanes and tornadoes (all from the federal government, plus some earthquake data from the California Geological Survey). But disasters can be unpredictable. Even Buffalonians need to be prepared for the worst. ...
The 10 lower-risk metros for natural disasters have other crosses to bear. What upstate New York and northern Ohio lack in tornadoes and wildfires, they make up for in snow. While winter weather may be more predictable than earthquakes or hurricanes, harsh winters bring their own risks: blizzards, frostbite, and falling on the ice. Syracuse, Buffalo, Cleveland, Akron, and Denver are all among the snowiest large metros in the country.
As that clip above notes, the maps are based on data from the federal government. Of course, the map is only as good -- and as fine-grained -- as the data set from which it draws. And for some risks, like flooding, there are probably better, more-detailed maps.
The map at the top is Trulia's national picture of earthquake risk. Two more national maps -- for hurricanes and tornadoes -- are after the jump.
[via Atlantic Cities via Innovation Trail]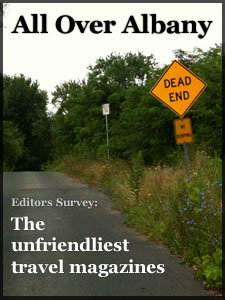 Conde Nast Traveler ranked among the most unfriendly travel magazines in AOA's annual editors survey.
To be fair, CN Traveler is probably better known as a stepping stone in a publishing house that includes more prestigious publications such as Vogue, The New Yorker, and Wired than as a destination title. That may be why it scored low on our survey. Still, some AOA editors had strong opinions: The "anachronistic" travel title was described as "no doubt having bulletproof methodology for its surveys of 'unfriendly cities'" by one of editors, and another said it was best to avoid, because "I put absolutely zero stock in this."
Then, again, maybe that's what they were getting at.
[via everyone]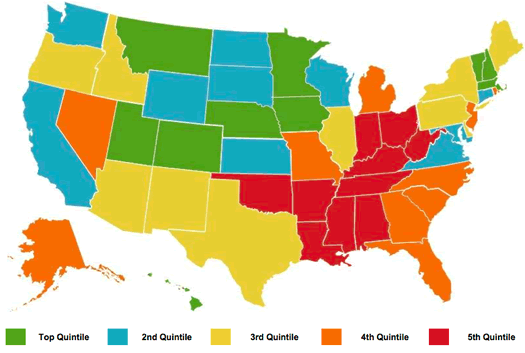 The Albany-Schenectady-Troy metro area ranked #58 nationally in the annual Gallup-Healthways "Well-Being Index" for 2012 (out of 189 metros). That's a big jump from 2011, when it ranked 101. And it was the top score in the state (take that, Rochester).
The report surveys people across the country, asking them questions in six categories: life evaluation (current and the in the future), emotional health (happiness, sadness, worry), physical health, healthy behavior, work environment, and basic access to things like healthcare and healthy food.
The Albany metro's rise in the rankings appears to be attributable to big jumps in two categories: life evaluation (67 from 117) and work environment (74 from 128).
This metro's lowest ranked category was emotional health (#138), as it was in 2011 (#151). The emotional health category is based on questions about topics that include: smiling or laughter, being treated with respect, enjoyment, happiness, worry, sadness, anger, stress, learning or doing something interesting, depression.
The index also ranks states -- New York was #30. And two of its metros were near the very bottom of the rankings: Binghamton (176) and Utica-Rome (179).
The top ranked state in 2012 was Hawaii -- for the fourth straight year. West Virginia was last.
The top ranked metros, by size category: Washington-Arlington-Alexandria, DC-VA-MD-WV (large), Lincoln, NE (mid-size), Burlington-South Burlington, VT (small).
The report for New York State is post jump.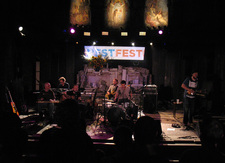 The Albany metro area ranks #9 in the nation for musical acts per 10,000 people, according to an analysis by an academic institute at the University of Toronto that includes Richard "Creative Class" Florida and published today at Atlantic Cities.
This analysis follows up on previous work by Florida and his colleagues looking at clusters of musicians around the nation. In that earlier work, based on federal jobs and industry data, Albany ranked 14th among "centers for musicians and the music industry."
As with that previous analysis, this new work has some important caveats. The foremost: it's based on data pulled from MySpace in 2007. That's not totally a bad thing. Using that data helps get around the problem of only including people who are identified as professional musicians in the federal data. But, still... it's MySpace and it's from 2007. And, of course, such an analysis doesn't necessarily account for quality.
That said, it's not surprising that this area would rank relatively high. We have a bunch of musical acts here -- and a lot of them are good.
[via @SeanPCollins]
Earlier on AOA: Find other people who do what you do, and then push each other to get better