Items tagged with 'Capital Roots'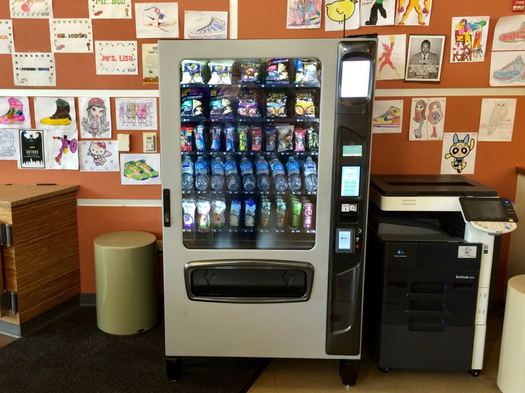 Check it out: Capital Roots is coordinating the roll out of new vending machines that offer healthier snack options.
The first two machines are Albany Public Library branches. The org introduced the program Tuesday at the Arbor Hill/West Hill branch of the Albany Public Library, which has one of the machines. The other is at the Howe Branch in the South End. A third machine is headed to the Albany Leadership Charter High School for Girls on Hackett Boulevard.
Capital Roots is aiming to place as many as 50 of the machines at spots around the area as part of the program's first phase.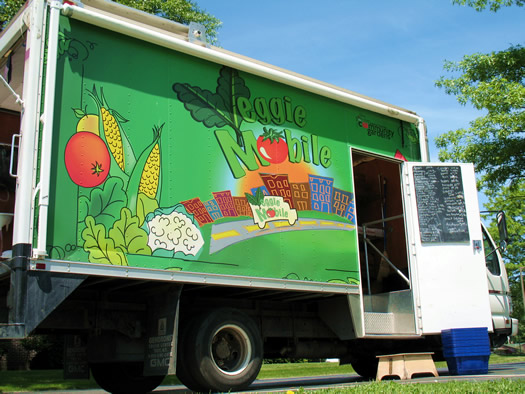 Capital Roots is celebrating the 10th anniversary of The Veggie Mobile -- its rolling green market on a truck -- with a party called The Big Veg this Friday, July 28 at the org's headquarters in Troy. There will be music from a bunch of acts, food trucks, and drinks.
The Veggie Mobile is an established part of the food landscape, making stops around the Capital Region each week, selling fruits and vegetables in neighborhoods that don't have easy access to such products.
But a decade ago?
"Everybody I talked with afterwards thought it was a crazy idea," Eric Krans said to us recently about taking the job back then. He helped start the program and headed it up for almost eight years.
Eric -- who's known as EJ on the Veggie Mobile -- has since moved on to a job at UAlbany, but he's still involved with Capital Roots. And he'll be playing The Big Veg as part of The Parlor, the band he and his wife, Jen O'Connor, have had for many years.
We got together with Eric to talk about the early days of The Veggie Mobile, the power of relationships, what it was like to move on from something he helped build, and what's up with The Parlor these days.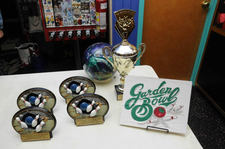 The annual Capital Roots Garden Bowl is coming up January 30 at Uncle Sam Lanes in Troy. It's a bowling-themed fundraiser for the community gardens org. How-it-works-blurbage:
Each year, Capital Roots teams up with friends and businesses in the Capital Region for a winter bowling extravaganza called Garden Bowl! In the months leading up to this annual event, bowlers invite donors to sponsor their games. Then they strap on their bowling shoes and compete winning prizes for high scores, highest fundraising, and more!
Whether you throw gutter balls or bowl a perfect 300 you are welcome to join the fun. You have a chance to win ski passes, dining certificates and more while you spend the day bowling with friends, family and co-workers.
The minimum entry fee is $25, though of course, the goal is for teams to raise more than that from donors. The first 50 people to raise $50 or more also get a Garden Bowl t-shirt. Details at that link above.
Capital Roots' annual harvest fall harvest celebration -- Autumn Evening in the Garden -- will be at the Hilton Garden Inn in Troy on September 17. Blurbage:
"An Autumn Evening in the Garden" brings together more than 15 of the region's most talented chefs with 30+ local growers, producers, and beverage makers from all over the greater Capital District for a delicious "strolling supper." The farmers contribute their meat, cheese, and produce. The chefs use these contributions to create their dishes. Guests sample outstanding cuisine drawn from the creative kitchens of some of the area's finest restaurants while enjoying local wines, beers, and spirits, while mingling with chefs, farmers, and friends.
This year's featured chef is Brian Bowden of 15 Church in Saratoga Springs.
Tickets for the fundraiser are available online -- they're $150 / $75 for people 35 and under.
As you know, Capital Roots is the org formerly known as Capital District Community Gardens.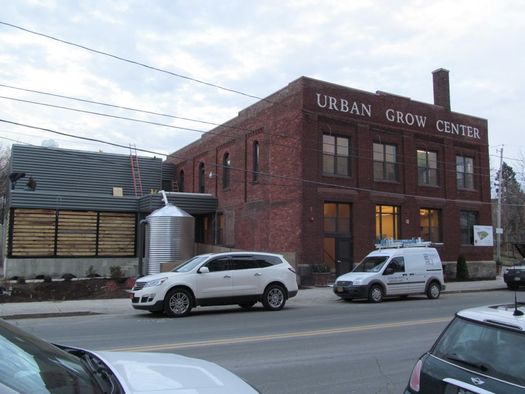 Two big pieces of news out of Capital District Community Gardens today. The first is that it's no longer Capital District Community Gardens. After 40 years the regional food org that runs eleven programs including the Veggie Mobile, Community Gardens, and Healthy Convenience Store program has changed its name to Capital Roots.
The new name comes as Capital Roots officially opens its long-anticipated Urban Grow Center in a rehabbed, 165-year-old industrial building in Troy.
The 12,000-square-foot building includes a produce market, gardeners'resource center, green roof, and community meeting space.
Here are few more details and a look around...