Items tagged with 'Huck Finn's Playland'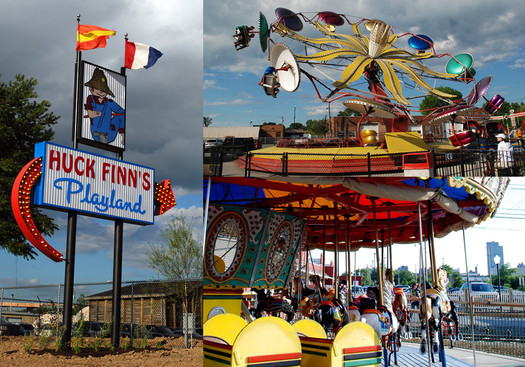 By Nicole Lemperle Correia
Last fall, my family visited Hoffman's Playland during its final weekend. The mood was as somber as it gets at an amusement park. The Playland was being sold after over 60 years in business, and at that point there were no known plans for saving any aspect of the park. The land was headed to commercial development, the rides to auction.
Hoffman's Playland was woven into the childhood memories of anyone who grew up in the Capital Region. It was the place to celebrate good report cards and birthdays, the place where we overcame fears, laughed with our families, ate too much cotton candy, grew up. It was a place we hoped our children and grandchildren would know and love. The thought of losing the Playland broke many hearts.
Just as the rides were set to be sold, Huck Finn's Warehouse announced that it would be buying all of the rides and opening a park adjacent to its furniture store in Albany's Warehouse District.
Huck Finn's Playland opened to the public last Thursday. I went by to check it out on Friday (with my 4-year-old Playland fan in tow, of course). We rode the train and the carousel together, she took the boats for a spin and made new friends on the mini ferris wheel. She got a chocolate-vanilla twist soft serve which melted all over her dress. She was a ball of glee.
So, how does Huck Finn's Playland compare to Hoffman's Playland?
Huck Finn's Playland posted this clip of the relocated rides in action on its FB page last week.
The new Huck Finn's Playland -- which, as you know, includes the rides moved over from the now-closed Hoffman's Playland -- is set to open this Thursday, June 18 from 5-9 pm, according to its website. (And it sounds like that's weather dependent, too.)
Regular hours -- Monday-Sunday noon-9 pm -- will start Friday, June 19.
Ride tickets are $1.75 / 8 for $12.25 / 25 for $29.95, and they're available online.
The new playland is at 25 Erie Boulevard in Albany, just north the Huck Finn's Warehouse furniture store. (You can see some of the rides from 787.)
Earlier on AOA: What I'll miss about Hoffman's Playland (2013)