Items tagged with 'Nelson Rockefeller'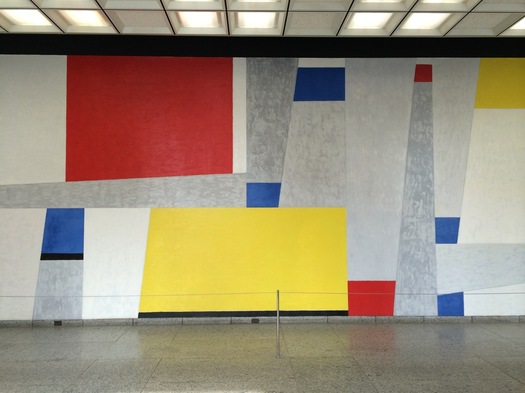 A lot of the art on display in the concourse of the ESP can be an acquired taste. But we liked this 1968 mural by Fritz Glarner from first glimpsing it. The work covers a wall in the Abrams Building opposite a series of windows the look out into the Vietnam Memorial courtyard.
Maybe it feels more alive because it gets natural light.
Glarner was an immigrant from Switzerland. His style was influenced by the work of Mondrian, who was a friend. (See it now?) About five years before creating the mural above he was commissioned by Nelson Rockfeller to design the dining room of Rockefeller's NYC apartment -- the panels he created for that project were later sold during the 1980s, and are now part of a museum collection in Zurich.
The mural in the Abrams Building was commissioned for the ESP. And according to placard for it, the work was created in three sections and then attached to the wall, "specifically placed to complement its surroundings." It ended up being Glarner's last mural. He died in 1972 at age 73.