Items tagged with 'Tang Museum'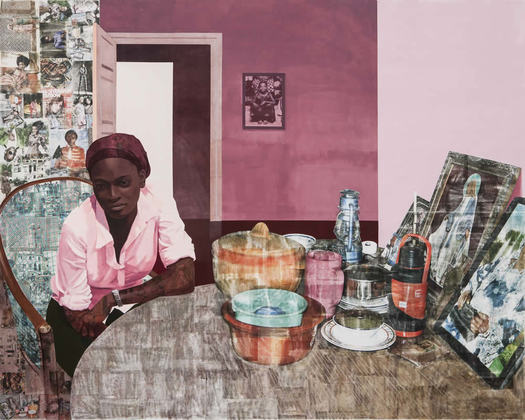 The MacArthur Foundation announced its 2017 class of fellows (the "genius grants") Wednesday and the list includes painter Njideka Akunyili Crosby -- who, as it happens, will be at Skidmore's Tang Museum October 21.
An exhibit of work by Akunyili Crosby -- Predecessors -- opens at The Tang this weekend and will be on display through the end of the year. Blurbage:
Njideka Akunyili Crosby's large-scale paintings have garnered international attention for their investigations into the confluences, contact zones, and third spaces of culture in her work. The paintings represent a fusion of her Nigerian upbringing, her immigration to America, and her subsequent marriage to a white Texan. Her artwork also plays with and subverts preconceived notions of Western art history by including portraits of her African family, material references to her Igbo tribe's customs, and images of Nigeria's British colonial past. Her subject matter focuses on quotidian aspects of domestic life, taking place in conventional, albeit subtly Nigerian, interiors.
Njideka Akunyili Crosby: Predecessors unites for the first time many works from the artist's Predecessors series. The series celebrates her family and Nigerian background through portraits of her late mother, an important political figure in Nigeria, her sister, and the artist herself, as well as re-imaginings of her grandmother's kitchen table with all of its pots and pans alongside the traditional Nigerian assortment of "tea things" (the artist's own phrase).
The October 21 event includes a talk by Akunyili Crosby and artist Julia Jacquette. It starts at 3 pm, with a reception at 4 pm. It's free and open to the public.
Below is a short MacArthur Foundation video in which Njideka Akunyili Crosby talks about her work.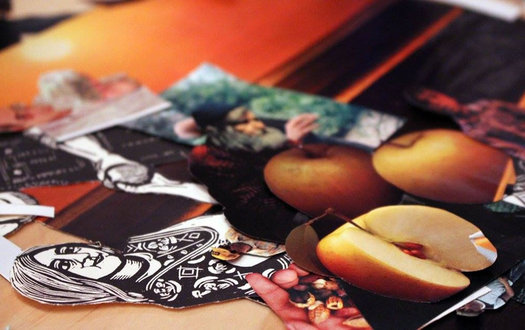 The Upstate Collage Night series art/crafts get-togethers will be at the The Tang Museum on the Skidmore campus February 9.
What is it? Blurbage:
Upstate Collage Night is an art party! Our roaming glue-and-scissors-social is a celebration of ephemera featuring a refined collection of vintage magazines to cut up and remix. It is hosted by Caroline Corrigan and Ira Marcks; two people dedicated to creating good things in UPSTNY.
... We find the perfect place, and provide all vintage magazines and supplies you'll need. Drinks and snacks are almost always available, and a good time is guaranteed! All you need to do is show up and let the scissors run wild.
You might already know Corrigan from Fort Orange General Store and Half Moon Market, and Marcks from his cartooning workshops and projects such as Creative Every Day. The series has had previous events at spots such as the Opalka Gallery in Albany.
The night at the Tang runs from 6:30-8:30 pm on Thursday, February 9. It's free and open to the public.
photo via Upstate Collage Night Facebook