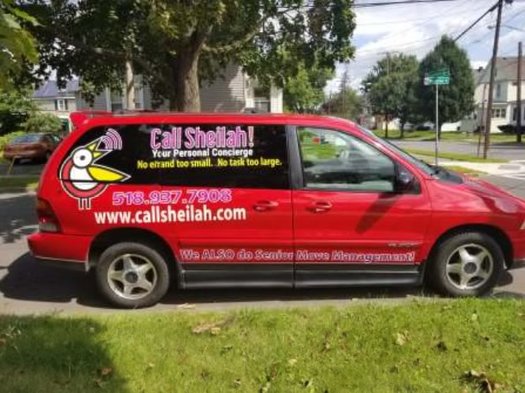 Project: Call Sheilah!, a personal concierge service.
Who: Sheilah R. Sable
Short bio
Sheilah R. Sable, the proprietor of Call Sheilah! has more than 25 years of experience in non-profit operations and management and was the lead in the successful and historic marriage equality campaign in New York State. She also holds a Master's Degree in Organizational Management and Leadership. As a young person, Sheilah Sable was tasked with making sure her aging parents were managing. While this was a difficult burden for a child, ultimately, this burden became a gift, resulting in major skills development, and likeability, and those skills and likeability are now serving seniors and other busy professionals in the Capital Region.
Additionally, her work with various institutions in the Capital Region have helped hone skills that include operations, programming, administration, communications, strategic grassroots advocacy and planning and a laser focused ability to simplify magnificent projects, or at least those that seem magnificent to the person who is emotionally involved.
A description of the proposed project
Call Sheilah! is an award winning, woman-owned business with a proven track record. We organize chaos and turn mountains into molehills. No detail is too small; no challenge is too large. We ALSO perform the oversight and execution of the dozens and hundreds of moving parts that make up senior move management (a growing and much needed service in the Nation providing logistics and transition management to seniors). More than 120,000 seniors (the fastest growing demographic in the US) are facing the challenges created by aging in home or moving to a more fitting residence in senior living, assisted living and nursing home care here in the Capital District. The overwhelming magnitude of downsizing, packing, sorting, donating and all logistics management related to transition from a home where a person has lived for decades, is our specialty, with safety, efficiency and a sense of humor to beat the band.
Services include, but are not limited to: senior move transition and management; special event planning; errands of all kinds: from grocery shopping to de-cluttering; legislative campaign consultation; management of special projects; administrative oversight and/or support for temporary short as well as long term projects; coordination of legislative meetings for your advocacy day and other advocacy efforts/event planning; moving assistance; vacation prep and re-entry; assistance of all kinds for your aging parent or loved one; tending to details of your life during a temporary set-back or disability; small business/temporary help, from mailings to filing to reception. We even helped find the perfect puppy for a local family.
As the owner of the business, Sheilah Sable is not only providing most of the staff power to clients but is responsible for all of the back end operations: public relations, research, marketing, communication, accounting, return phone calls, insurance management, technology oversight and all other needs as they arise. Fortunately, two part time individuals were added to pay roll and there are numerous go to per diem workers, who love working with Call Sheilah! clients and the business.
How would the grant money help?
The funds from AOA would help to operationalize the growing Senior Move Management division, allowing us to begin to bring, in house, some services we currently contract out for: moving materials and labor; estate sale management; administrative and social media services (managing online garage sale and giveaway for our clients treasured items) and seed money for a second vehicle, (solely dedicated to transportation needs for many of our concierge clients). The All Over Albany grant would provide much needed support to enhance and grow Call Sheilah! Your personal Concierge and Safe Senior Move Manager, providing valuable services and filling many of the unmet needs in the Capital Region.
+ Spectrum: Senior Assistants Helping With De-Cluttering After a Lifetime of Collecting
Maybe you'd like to share...
Tweet