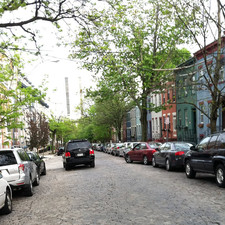 Who: Lauren Alpert
Project: Develop an independent car sharing organization in the Capital Region.
A short bio
I grew up on Long Island, attended SUNY New Paltz for college and then moved to Brooklyn in 2006 before moving to Center Square in 2008. I commuted from Center Square to Troy by taking CDTA's Route 22 everyday where I worked for Capital District Community Garden's Veggie Mobile project.
While living in Brooklyn I worked as a student and transit advocate and continued to ride the bus when I moved here. In 2009 I started graduate school at UAlbany for a Master's of Urban and Regional Planning which I am completing May 2012.
I knew about car sharing before starting graduate school and always thought the idea was brilliant. It is a great link between private car ownership and transit. Through graduate school I met other people who shared my thoughts on car sharing and we are currently working on an operation and implementation plan for car sharing in the capital region.
A description of your proposed project
We want to develop an independent car sharing organization in the capital region. Car sharing is a decentralized fleet of vehicles that people can access themselves when they sign up to become members of a car sharing organization. It bundles the cost of gas, insurance and maintenance into an hourly rate and mileage fee. You only pay for the time and distance you use.
Car sharing is cost effective for those who have the option to walk, bike or take transit for most of their daily trips but who need a car for the occasional shopping trip or errand. Car sharing also has dedicated parking spots for those who are sick of circling the block looking for parking.
There is car sharing going on at UAlbany's campus, which is open to the public, but the cars are in the campus community and not the community as a whole. We would like to bring car sharing to the capital region and are working on a business plan to do so.
How this funding would help
The funding would help continue the project past the completion of the operation and implementation plan in June 2012. There will be a lot more funding needed to start operations but the money will be used to further advance the project through the incorporation process and continued marketing. It would be used to leverage additional funds from dealership financing, Capital District Transportation Authority (CDTA), New York State Energy Research and Development Authority (NYSERDA) or other funding sources. The funding would be a great jumpstart to the project.