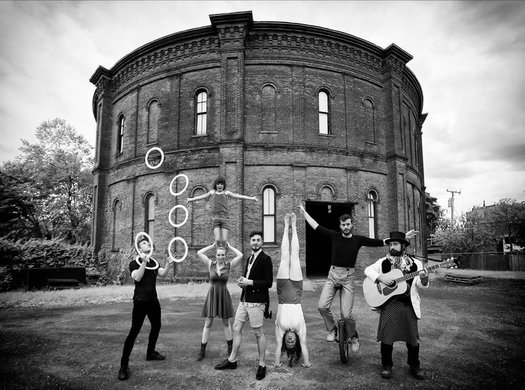 Project: Marquise Productions, a Montreal-style circus company headquartered in Troy that creates original circus-theater shows featuring internationally acclaimed artists.
Who: Aaron and Sarah Marquise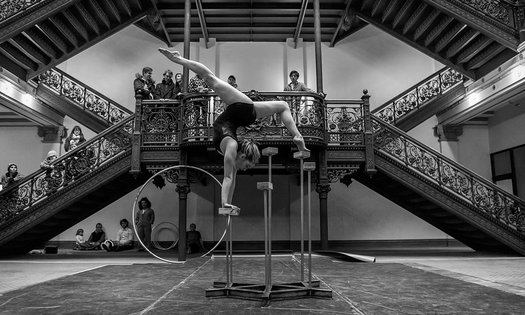 Short bio
When Aaron Marquise, the executive artistic director of Marquise Productions, first laid eyes on Troy's Gasholder building in 2014, he immediately imagined the possibility of circus -- this enormous circular brick structure in South Troy actually looks like a French circus building!
Originally from the Capital Region, Aaron studied contemporary circus for four years at the National Circus School in Montreal, graduating in 2015 as a professional clown. While still a student, living in Montreal, Aaron produced two successful circus shows in the Gasholder.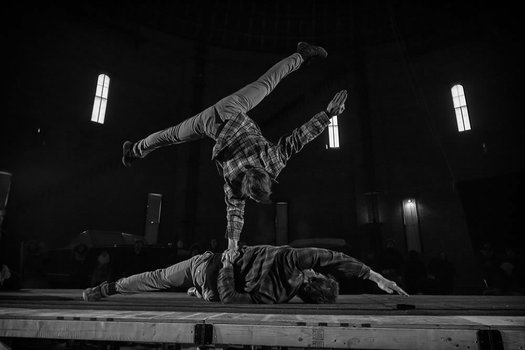 Since graduating, Aaron's dream for Marquise Productions has continued to expand, incorporating other forms of creative expression and performance arts into its mission statement. It has expanded in other ways as well. Aaron's wife, Sarah, also contributes to Marquise Productions, offering PR and communications support, as well as acting as the main contact between the artists and the company.
With Aaron and Sarah now living in Troy full-time, they hope that the quality and quantity of Marquise Production's work will continue to improve and multiply in a city that celebrates small businesses and local artists. Even beyond the love of circus and performance, Marquise Productions has always been about a long-term investment in the growth and development of the community. This investment is based on a solid belief that where the arts flourish, the community flourishes as well.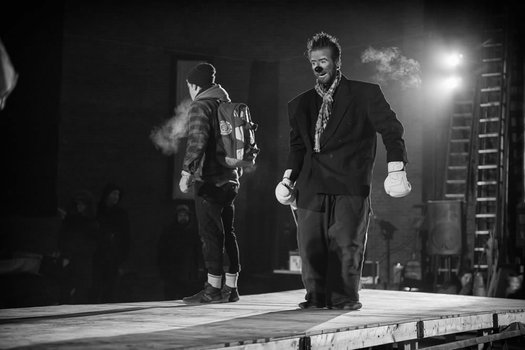 A description of the proposed project
We are currently designing an event for October of this year modeled around a late-night talk show with a live audience. The show will feature performances by international circus artists, local performance artists and musicians, big screen video footage and live on-stage interviews from people who are making a difference in the community. Our goal with this project is to provide a platform for local talent and news while also emphasizing unique performances from around the world.
We hope this "pilot" episode will be the first of many and our goal is to make this a regular online program filmed before a live audience. The video footage, which will be made available online following the event, will not only be used as an endeavor to gain support and funding from sponsors in the future but also to publicize the city of Troy.
We really love the entrepreneurial spirit in Troy, and we want this event to highlight the transformation that can occur when members of a community support each other on a local level. We would love to highlight the local businesses through live interviews and on-site video spots shown during the event, as an act of appreciation and a celebration of what our community has to offer.
From day one, Marquise Productions has focused on forging and maintaining relationships with other small businesses in and around the city. The success of our past performances has depended on the support of these relationships, whether that be as simple as a local pizza place providing meals for our artists or our favorite donut shop acting as a vendor at several of our shows.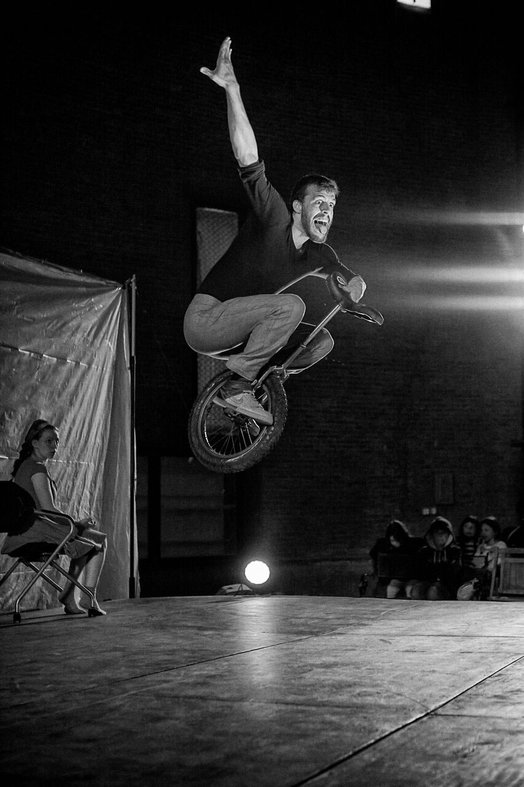 How would the grant money help?
We are passionate and eager to share our love of the circus and performance arts with our community. In order to put on this performance we have a lot of practical needs like renting a performance space, hiring someone to help with light and sound, and most importantly, a film crew so that we can not only put the event online afterward but use the video to acquire future sponsorship. From what we have researched so far into the costs of these necessities, we could disperse the grant funding into a budget that looks like this:
Rental Space: $1,500
Light/Sound Technician: $500
Professional Filming of event: $500
The budget for the entire event will be higher than $2,500, but having these three crucial things covered by the All Over Albany grant would enhance the overall quality of the evening.
Circus is such a creative and diverse art form and we have discovered that it fits in perfectly with the vision and movement of Troy, New York. Marquise Productions is always looking for more ways to introduce and integrate contemporary performance art into the community with the hope that its reach will go beyond the scope of entertainment, and into the scope of community development.
All photos: Douglas C Liebig/Optimum Exposure
Video by Patrick Harris of Probity and Company
Maybe you'd like to share...
Tweet