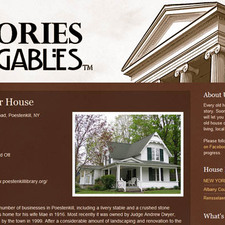 Who: Beth Bornick and Dave Grunenwald
Project: Every old house has a hidden story. Stories and Gables will let you share the story of your old house online, to help build a living, local history.
Project Description
With each passing generation, we lose important connections to the past. Stories and Gables will help preserve these stories, fostering an appreciation of our local history, and increasing pride in neighborhoods and communities. If you've ever participated in a local historic event like the Victorian Holiday House Tour in Altamont, you'll know that the old houses around us can have fascinating stories to tell. We want to make it easy to share and learn that history online.
Communities recognize significant buildings by listing them on the Historic Register - examples include the Lansingburgh home where Herman Melville wrote his first two novels, or the Greek Revival mansion built by Titus Eddy, Troy's indelible ink tycoon. Stories and Gables will tie those houses into rich and complex communities, along with the stories of the homes of farmers, grocers, innkeepers, factory workers, carpenters, and blacksmiths. More than 6 million homes built before 1920 are still in residential use in the U.S., so there's plenty of history waiting to be discovered.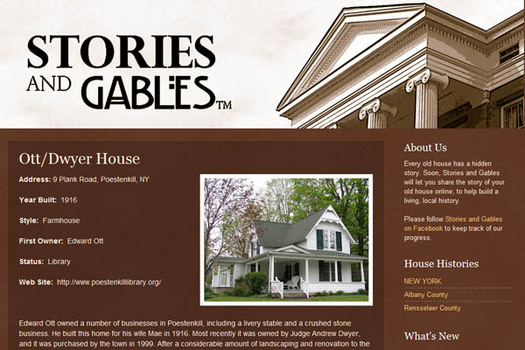 Funding
We "laid the foundation" for this business in March, at the Startup Weekend hosted by GrandSlam Alley in Troy. But to "raise the roof", we need to build Version 1.0 of the web site, with enough functionality to allow people to post a basic history profile of their house. The site will be created on Joomla, an open source content management system, and the grant will be used for a consultant to do the initial programming (a former colleague is giving us a bargain rate). We can do some minor enhancements and additions ourselves, and add major functionality as we can afford it.
Once the basic functionality is in place, we can solicit house history profiles through social media, historical societies, neighborhood associations, municipal historians, and realtors. House histories will be free, and business profiles will be available for a fee, to enhance visibility for Bed & Breakfasts and other businesses catering to historic home lovers. To finance future development costs, we plan to host curated, high-quality advertising, targeted to the interests of old home enthusiasts. We also plan to offer enhanced "For Sale" profiles to complement realtor MLS listings (over 9,500 of the homes currently listed for sale in NY are at least a century old).
Bios
Beth Bornick owns a 100-year-old house that was a Sears kit home. Her interest in learning the history of the house and neighborhood led her to create the BathOnHudson blog (currently on hiatus), and to research and write a history of Rensselaer's North End Park District. She currently does consulting in technology commercialization and high-tech business development.
Dave Grunenwald's pre-Civil War era farmhouse was the toll house on the Troy and Poestenkill Plank Road. Dave is an established entrepreneur who co-owns Bankshot Antique Pool Tables in Albany, and creates QuiltBoxes â"¢ in the former blacksmith's shop at his home.
Demonstrations
Please visit our preliminary demo site.
Like us on Facebook - and share a few words about your house's history:
And please vote for Stories and Gables!
Maybe you'd like to share...
Tweet