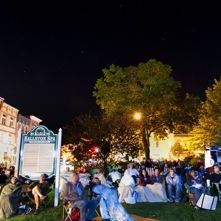 Who:
Daniel DiFabio
Project:
The Ballston Spa Film Festival
Bio:
Daniel DeFabio is the president of the Ballston Spa Business and Professional Association. He introduced free outdoor movies in the park to Ballston Spa in 2007 and built that into a festival for short films from around the world. Professionally he creates TV and print ads and motion graphics for entertainment clients like Steve Martin, Colin Mochrie and Brad Sherwood, TNT's "The Closer" , HBO's Curb Your Enthusiasm, Anthony Bourdain, The Captains of the Deadliest Catch.
Defabiodesign.com
for more info.
A description the proposed project: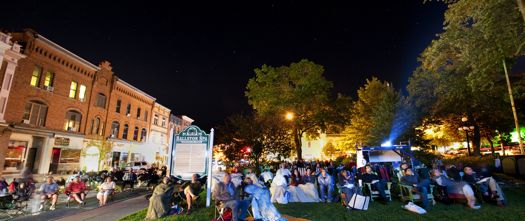 The Ballston Spa Film Festival presents the film work of area student filmmakers, local filmmakers and young filmmakers from across the country alongside the films of working professionals. We screen short films from 3-15 minutes long including world premieres and previous award winners. Established professional filmmakers attend as judges and guest speakers. The screenings are free. More information at http://www.bspafilm.com/
Ballston Spa has no movie theater. Locals interested in independent short films have very few outlets to turn to. The Ballston Spa Film Festival is both a family friendly event for the village residents (and those from surrounding areas) and a independent film fan's event. We draw to our festival film fans from across the Capital region. And in 2010 from farther out like NYC and Toronto. We especially reach out to area students to encourage their participation as filmmakers and event volunteers.
What's next:
So far, while our festival has grown each year, we have been unable to attract celebrities. The judges we have had, while excellent, have not been compensated fairly for their time or travel. The additional funds from the AOA grant would allow us to pay for judges travel and accomodations plus a stipend of some sort. This should help us to attract judges from the film industry whose names are known and that increases the visibility and popularity of our festival. For 2011 we may have a chance to bring Paul Sorvino to town.
The festival aims to become a destination event in the region. We hope to draw larger audiences from a wider area and attract more well known filmmakers. We want this event to bring substantial crowds to the village and secondarily to expose filmmakers to the charm of this area so they might consider filming in the region. We have forged promotional partnerships with national and international communities of independent filmmakers. This has brought more attention and better films to our festival.
The festival is presented by the Ballston Spa Business & Professional Association.
Maybe you'd like to share...
Tweet