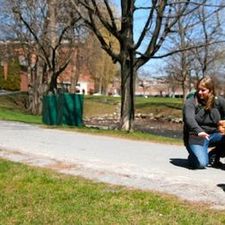 Who:
Heather Stewart
Project:
Apple Blossom Bunch: Pre-School Program with Heart
Bio
My name is Heather Stewart and I live locally in Saratoga Springs, NY. (Learn more about me
www.fairyuna.com
) As a children's performing artist before my move here in Nyack, N.Y. I found myself creating amazing programs for children and families to get closer to the simple wonders in life, such as our relationships to each other and to the land. Nature based programming became my passion.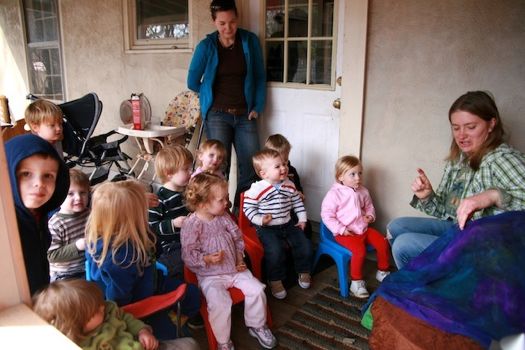 I created a children camp where children came to learn about the magic of the forest through storytelling, forest exploration and fantasy- fairies, dragons and elves. It sounds a bit out there- but children live in the world of fantasy- and if they don't it's often because they are not given the space to dream. Many of the children, as they got older, did not want to stop our magical experience. Playing with fairy dolls, or building fairy houses with nature became wrong as the competition for what is cool took over- video games, you tube and growing up looked as though it would win. I created a program called Magic Girl. The children meet 4 times a year and one week in the summer. (We still meet currently) The creation of this camp and club was all about preserving childhood and learning about who you are with the outdoors and storytelling guiding the way. The ipods go in book bags- the pens and paper come out. Dolls come out too. We make it cool to be young again. With a personal move to Saratoga Springs I felt lost without my programs- and inventing myself became challenging without familiar forests and friends. I was brought into a space in myself that I had not been to before- and younger children were all around me. I felt drawn to create a magical day care experience where children could learn and grow together with the forest as a guide. I started
Apple Blossom Bunch Day Care
in my home.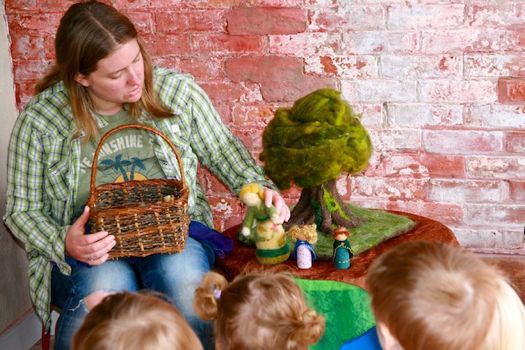 Description of project:
The core values are healthy food, healthy relationships, a connection to nature and time to play. While I feel there is a place for technology among children, the early years are all about the simple offerings of this world- nature- gardening-learning rhythm-singing- puppet shows and storytelling. As a storyteller and a puppeteer I found it easy to create a lovely place for the children. As time went on, I missed my older friends and began to dream up a full day Pre-K program that would have art and health as it's core values and bring alive all of the experiences of my past. I needed a forest space to create this. I found the Saratoga Arts Building to be a wonderful choice with Congress Park right there for the program. We also have another possible site on the outskirts of town with a white birch tree forest besides the building, as well as a swamp. I was made to do this work with children. I would love the chance to be supported by a community grant.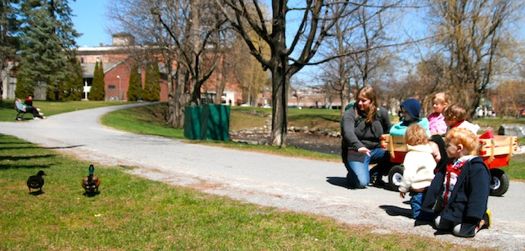 Simply I want to begin a place for a full day Pre-K. There are only two full day Pre-K programs in Saratoga, and limited places for this age range in the public school. This is the most magical age and I believe a program just for this age range would be so wonderful. Being 3 and 4 is this amazing experience where you understand simple things finally and your mind is awakened to the magic all around you. This magic can be a tree in the forest, the moss on the ground and holding hands with a friend. Why not create the space to honor this time before school begins and let kids be kids. I would love to receive this grant and use it to help fund this program. This grant would help toward our rent to our new space. Currently money is needed to make the move from home family day care to a more professional space, which could reach more children. It would also help to secure a program that has within it a place for only pre-K age. Depending on the space that the state allows us to occupy, we would either be a full day small pre-K class at the Saratoga Arts Building right next to the park, or a day care with a strong Pre-K class within the building (space on the outskirts of town) Either way I believe this program stands for healthy food choices for children. This is an important time of growth for children and they are our future. They deserve to be fed and encouraged to eat organic if possible and healthy food. This idea is new and it requires many things to move forward. In order to open in September-February, we need help to fund the beginning of this amazing program. Here's to hoping you like the idea!
Maybe you'd like to share...
Tweet