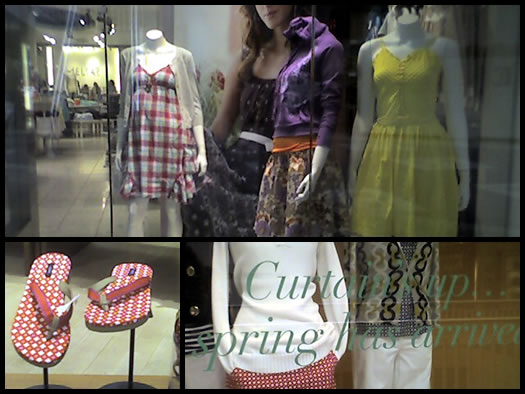 By Aja Lownes
Each year in January, like clockwork, our little corner of the country gets slapped with a nasty cold-snap. I've stopped being angry, and just accepted it. However, our favorite stores have not, and it pisses me off.
I generally am not ready to invest in new winter stuff until I'm sure the cold business is going to stick around. (I know, it always does. But a girl can hope.) Then the Holidays hit and most of my disposable income (Ha!) goes to gifts. So finally, after the new year, and a few weeks into the season, I decided to go looking for a few wardrobe updates.
It was not to be.
It's sort of traumatic to go to the mall with high hopes and armed with gift cards -- looking for sweaters, and maybe a new scarf only to find what the retailers call "Resort". Seriously? In Albany?
Oh, how quickly I forgot. From my stint in retail, I should have known better. Resort is why there's a sudden over-abundance of Capri pants and bathing suits, even though the current temperature rivals that of the arctic.
You see, a fraction of the population travels in the weeks following the Holidays, and they want all kinds of new stuff to wear on vacay. The rest of us, the MAJORITY of us, are stuck here, contemplating which pair of long-johns to wear. So I was sort of irritated when I asked where the winter clothes were, and was directed toward a sad-looking table near the back of the store. On it were a handful of sweaters, half-heartedly folded, in random sizes. Alternatively, there were many brightly-colored, leggings-based outfits to choose from instead, if I so desired... I didn't.
I get it, they've got to make money where they can, and a lot of people aren't spending much at this time of year. They also have to entice you with the new product as early a possible.
But tell that to the lady or fellow who has to wait for CDTA bus in the cold every morning. I'm sure they'd love to hear about the fun new shorts that just came in.
Hi there. Comments have been closed for this item. Still have something to say? Contact us.