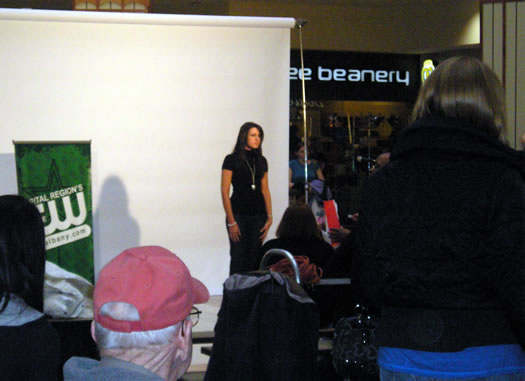 By Aja Lownes
When you hear that there are going to be tryouts for America's Next Top Model at the local mall, you have to expect it all: zealous pageant-mom types, Paris Hilton-types, and way too much make-up. Instead, the auditions at Colonie Center this past Saturday were sort of... low-key. Fly 92 was there (Big Ray was the MC), as was the CW, which airs the show.
There were lots of girls of various heights, sizes and ages decked out in stilettos, skinny jeans, and channeling the last five looks of Victoria Beckham. The crowd was the occasional family member or friend holding up a sign to support their daughter/sister/BFF.
All hopefuls stood against a white backdrop and were photographed and video-taped facing the camera and in profile. They also had to do a runway walk and a pose (yeah, they ALL need to work on that), and then they had to say a little something into the mic. On-lookers couldn't hear what was said, but I'm pretty sure that was the part when contestants talk about how they've wanted to model their whole lives and how they want to be like Tyra Banks when they grow up.
Unlike the show, there was no drama (much to my chagrin). Just a lot of high-school girls with a bit of diva in them, hoping to be the next big thing.