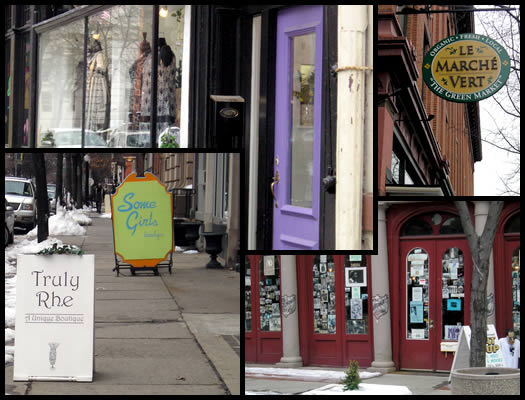 By Aja Lownes
Here's the thing people forget about Troy. It's a lot more than RPI, Russell Sage and antiques. Troy has great restaurants like The Brew Pub, Daisy Baker's and Revolution Hall. And if there are colleges, good food, good music and a little history within a stone's throw of each other, there's a good chance there's some decent shopping in the mix as well. Here's what I found on my last trip...

I fully expected rows and rows of antique shops (since they're all I ever hear about), and then maybe a high-end gift shop of some sort. Imagine my delight when I happened upon the Troy outpost of Some Girls boutique a few doors down from Daisy Baker's on 2nd St. It shares the same set up as the Albany store: 4 or 5 racks arranged by color with a hodge-podge of funky skirts, tops, and dresses. None of the merchandise seemed to have been designed in-house, but all of it was cute and probably can't be found anywhere else locally.
For all its great clothes, there were a few pieces that made a little...nauseous. Like the super high-wasted jeans. They literally come up to the sternum and give every woman, no matter how slight, the dreaded front-butt. I also nearly fainted when I spotted the acid-washed jeans (in blue and black). They looked like someone had time-traveled back to 1987 to get them. I love fashion, but I found these to be worrisome. Anyway, even if you're not interested in finding new duds to wear to a Motley Crue reunion concert, it's worth stopping in. The layout is open and bright, unlike the Albany location which is very cavernous and...pink.
Right next door, was another boutique called Truly Rhe. The display windows were done well, but the big lavender door intrigued me more. I think I'm getting older because this place was much more my speed( Mack The Knife was playing when I walked in). Nearly all of the merchandise in the front half of the store was black, white, or both. Lots of cute pin-tuck skirts, fitted blazers, and even a shift-dress or two. Again, none of the clothes were original designs, but the owner does design much of the jewelry.
Around the corner on River St., amongst all of the antique stores, was a place called The Beat Shop. The sign advertised used music so I had to go in. The CD selection was pretty sparse, but Vinyl is clearly the shop's specialty. They have a lot of inventory, but it's really poorly organized. I did end up buying an LP and a rare 7'', but only because I asked the owner who did the searching for me. It's pricier than Last Vestige, and is pretty classic rock heavy, but it's worth a stop if you have a lot of time to pick through everything.
My final stop was Le Marche Vert, a gourmet, organic market. It's owned by Larry Schepici of Tosca which is right across the street. The door said is was open until 4 on Sundays, so I was a little surprised to find the door locked at 2:45. The fella inside let me in anyway. This place kind of fills the void that Cowan & Lobel left. It's not as big, but there were yummy looking prepared foods, gorgeous chocolates, and a small selection of produce. And I was told that three times a week they get fresh fish from Boston.
So I genuinely enjoyed myself on my last trip to downtown Troy, and not just because I was buying stuff. I'll be going back.