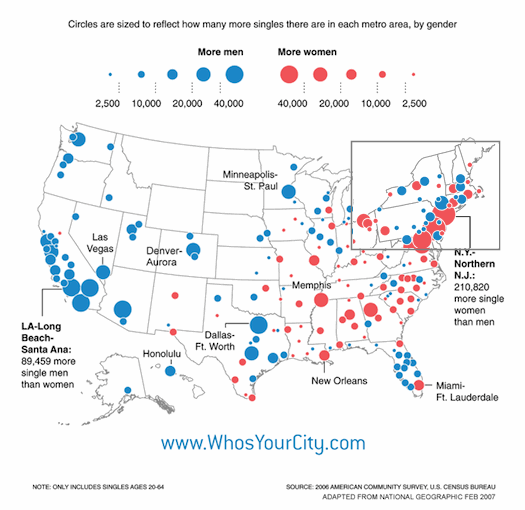 It's been said that a good man is hard to find. And while we're not in a position to comment on the quality of single men in the Capital Region, we can say this about the quantity: ladies, if you're looking for a single guy, the numbers are against you.
The map above, from Richard Florida's WhosYourCity.com, lists the relative counts of single men and women in cities around the nation. As you can see, there are quite a few more single women here than men. But how many exactly? We looked up the census data to find out.
county
men
women
Albany
58,644
73,406
Schenectady
29,540
33,805
Rensselaer
30,286
33,868
Saratoga
35,673
41,296
totals
154,143
182,375
the difference

28,232 more single women


for every 100 single women there are single 84.5 men
Every stat like this comes with caveats, so here they are: these numbers cover people age 15 and older who are currently not married -- we didn't count people who are separated. Also, the above map only counts people between the ages of 20 and 64. So there are going to be some differences with the numbers we pulled from the Census Bureau, especially since women tend to outlive men.
map: WhosYourCity.com
The Bottom Line
Ladies, if you're not liking the way the numbers stack up for you here in the Capital Region, there's always California. Single men way outnumber single women there.
Hi there. Comments have been closed for this item. Still have something to say? Contact us.