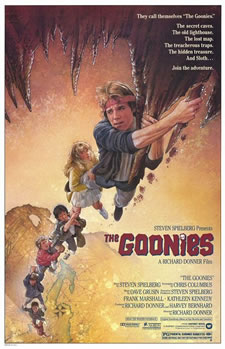 According to Netflix, here are the DVDs that people in Albany are currently renting "much more than other Netflix members."
1. The Goonies
we wouldn't have guessed this one either
2. December Boys
Daniel Radcliffe, but not as Harry Potter
3. What the #$*! Do We Know!?
this is called a documentary, but many contend it's more a work of fiction
4. The Princess Bride
wow, first Goonies and now this
5. The Business of Being Born
doc about maternity care
6. Sopranos: Season 5
it's all about the family
7. Battlestar Galactica: Season 1
maybe people are getting caught up now that the final season is here
8. Miller's Crossing
the Coens do 30s-style gangster
9. Happiness
from the Netflix description: "not for the squeamish"
10. Arrested Development: Season 1
meet the Bluths

Lists for Saratoga Springs, Troy and Schenectady after the jump...
Saratoga Springs
1. Queer as Folk: Season 1
2. Broken Bridges
3. Foyle's War: Set 1
4. Moulin Rouge
5. Delta Farce
6. December Boys
7. Shooter
8. The Wild
9. Unaccompanied Minors
10. Balls of Fury

Schenectady
1. Lewis Black: Unleashed
2. December Boys
3. Life Is Beautiful
4. Dark City
5. The Monster Squad
6. Gridiron Gang
7. Empire of the Sun
8. Larry the Cable Guy: Morning Constitutions
9. Shrooms
10. Taking Lives

Troy
1. The Backyardigans: Mission to Mars
2. Nip/Tuck: Season 2
3. House, M.D.: Season 2
4. Flags of Our Fathers
5. The Bone Collector
6. Failure to Launch
7. The Lion, the Witch & the Wardrobe
8. The Brave One
9. Resident Evil: Extinction
10. Gridiron Gang