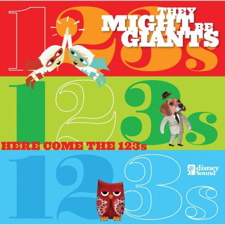 TMBG will be playing not one, but two shows at L'Oeuf on Saturday. But check your program-- these shows are very different.
The 3 pm concert is a "family show," so bring the kiddies .
Apparently They Might Be Giants have become pretty popular with the Little Tykes set. TMBG's John Flansburgh says the kids music has kind of taken on a life of it's own. "There's really a world of PBS Kids watching and Disney Channel parents who have discovered us through this kids stuff. As unlikely a scenario as that is, we see evidence of that quite a bit."
Flansburgh says after 20 years of performing for adults, the kids shows are kind of a challenge:
"A third or half the audience is adults and it's very tempting to just start addressing them directly. Pretending that they're not there seems a little bit fake. It's hard to navigate. It's very easy to write songs for kids and it's very easy to create stuff for kids because it's such a golden opportunity to use your imagination and its completely free. When you're in a rock band even if your not predisposed to looking over your shoulder it's hard not to
at a certain point just because you're in a culture that's so neurotic and self aware and the history of rock music looms pretty large in the world of popular song writing. But when you're doing stuff for kids all that stuff kinda goes out the window. These are songs kids are going to hear for the first time and they haven't heard that many songs . For a writer it's an open assignment. But performing for kids is tricky . Kids are easily bored and there are different ages in the room at the same time. It's kind of a stunt."

Oh yeah, and there's one more challenge.

"The evening show is the "swearabration." Doing kids shows we have to be on such good behavior. We spent the first 20 years of our career swearing publicly and you really get used to it after a while. So we really have to watch ourselves at these kids shows and then usually the shows immediately following them are entirely blue."

Earlier on AOA: Talking with They Might Be Giants' John Flansburgh about The Egg