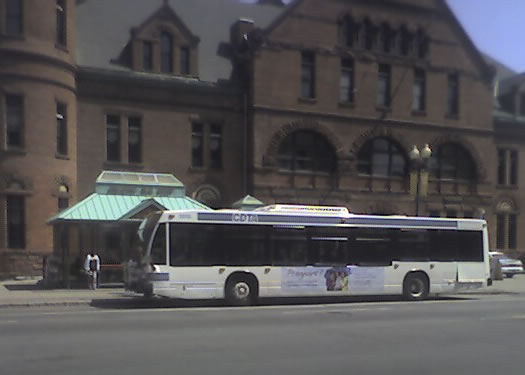 Now that gas prices have reached "Are you frakking kidding me?" levels, we were curious to find out if you could save a few bucks by taking the bus to work. And the answer is yes, sort of, maybe, it depends.
Next stop: the details.
We ran the numbers to figure out how much one day's round trip commute costs from various locations to downtown Albany (the ESP, to be exact) via the bus or driving. As you might expect, we had to make a bunch of assumptions -- they're explained below.
| | | |
| --- | --- | --- |
| commuting from | bus | drive |
| Saratoga | $9.10 | $10.64 |
| Malta | 6.90 | 7.42 |
| Clifton Park | 6.30 | 5.52 |
| Guilderland | 2.50 | 3.64 |
| E. Greenbush | 2.50 | 1.96 |
| Latham | 2.50 | 2.40 |
| Albany/Colonie/Delmar* | 1.80 | 1.40 |
Here's how we arrived at these numbers:
+ All trip distances were calculated from Google Maps' definition of the starting point to the Empire State Plaza.
+ We assumed that gas was 3.50/gallon.
+ We assumed that you could get 25 miles/gallon driving your car.
+ For Saratoga, Malta and Clifton Park the bus cost was calculated by adding up the cost of two NX 10 pack commuter fare trips plus the cost of driving 5 miles roundtrip from your (or someone's) house to the the park and ride (70 cents).
+ The Guilderland, E. Greenbush and Latham bus costs were calculated by dividing the cost of a 5 day "swiper" card by 20 (assumed number of work days in a month), which is $1.80, and then adding the cost of a 5 mile roundtrip to/from the park and ride.
+ The Albany, Colonie, Delmar bus cost was calculated by dividing the 5 day swiper card cost by 20. We figured you could catch the bus from these locations without driving to a park and ride.
+ The driving cost for Albany, Colonie, Delmar was based on a 5 mile trip each way.
+ The cost of taking the bus goes up between .20 (regular fare) and 3.60 (Saratoga) if you just buy single trips instead of the discount fare packages.
+ We didn't figure parking into the cost of driving, but that can add significantly to the cost if you're headed downtown.
+ We didn't look at travel time. In most cases, though, driving directly is probably faster because you don't have to wait for the bus, nor do you have to the added time of the bus making stops.

The Bottom Line
The cheapest option very much depends on where you live. And there other trade-offs to consider. Riding the bus could be cheaper -- it could also take longer. And while driving may be cheaper in some cases, riding the bus may be more relaxing. Your mileage may vary.

Say Something!
We'd really like you to take part in the conversation here at All Over Albany. But we do have a few rules here. Don't worry, they're easy. The first: be kind. The second: treat everyone else with the same respect you'd like to see in return. Cool? Great, post away. Comments are moderated so it might take a little while for your comment to show up. Thanks for being patient.