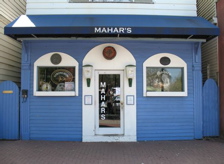 Since yesterday's post about All About Beer Magazine's list of the best places to have a beer before you die, people have been wondering how Mahar's rated 99th and The Saratoga Racecourse came in at 19. We have to admit, we too were puzzled, so we called up Rick Lyke, the author of the list. It turns out he used to live in Clifton Park and has been to both places.
Lyke says the list is broken up into three categories: traditional pubs or beer bars, festivals, and fantastic places with great atmosphere to sit and have a beer. The track falls into that last category.
"Beer purists will say Mahar's should be higher than the track, and I'd be hard pressed to disagree with them", says Lyke. "But there are 100-200 places around the country to have a beer that are like Mahar's. There is nowhere else in the country like The Saratoga Racecourse." He also points out that while lots of arenas offer the whole selection of Bud and Coors products, Saratoga has imports like Harp and Guinness as well as micro brews from Saratoga Brewing Company.
So how did Mahar's get on the list? "It belongs there," Lyke says. Back in the 1980's when the American craft beer movement was in it's infancy, Lyke says Mahar's was one of the first pubs to take part. "And they've stayed true to that. I've been searching for good beer for 25 years. Mahar's is one of the few places in the country that I can go into and consistently find beers I've never had before." Lyke says he also appreciates the fact that Mahar's is a pub " wedged into a neighborhood" in the old British style.
So, now you know.

Hi there. Comments have been closed for this item. Still have something to say? Contact us.