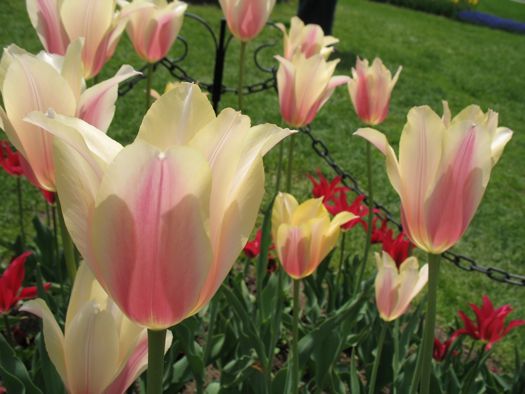 When Judy Stacey, Albany's city gardener, told us that tulips were edible, we were kind of surprised. It seems you were, too. So we decided to do a little digging.
It would appear that it's most accurate to say that parts of tulips are edible. And people do eat them. There are recipes, even.
There seems to be pretty wide consensus that the petals of tulips are OK to eat. They reportedly range in taste from "a mild bean-like taste, to a lettuce-like taste, to no taste at all." Apparently some people are allergic to them, so keep that in mind And you should never eat flowers that have been treated with fungicide or pesticides.
There are conflicting reports about the bulbs. Some say no, they're poisonous. Others say yes, if you know what you're doing. It seems that people have eaten tulip bulbs, but they don't taste very good. During World War II, people in Holland were forced to eat tulips and it doesn't sound like they were good eats. Here's how one Dutch person described it:

"Even though much of Western Europe had been liberated from Nazis control, Holland remained under their firm grip. I remember the hunger. We were forced to eat tulip bulbs and sugar beets because there was no other food," Father Leo Zonneveld told Pat Gravely in an account of life during the Second World War that appears online, which was written for the Veterans History Project.

"Bread made from tulips is not very good; I can tell you that! The skin of the bulb is removed, pretty much like an onion, and so is the centre, because that is poisonous. Then it is dried and baked in the oven. My mother or older sisters would grind the bulbs to a meal-like consistency.

"Then they would mix the meal with water and salt, shape it like a meatloaf, and bake it. I can still remember the taste of it: like wet sawdust."

Um, no thanks. More contemporary reports indicate tulip bulbs haven't gotten any better tasting.
There are a bunch of recipes that use tulip petals: as cups for mousse, accents for tuna, for salad dressing, and little dishes for appetizers. We even turned up a recipe for tulip wine, which is apparently "a lovely white".
So, there's more than you probably ever wanted to know about eating tulips. As with anything like this that doesn't come from the supermarket, it's probably smart to err very much on the side of caution. And, really, you don't want to be the guy who got knocked over by a tulip.
Bottom line
Yes, tulips are edible. The petals, if not treated with chemicals, make good garnishes. The bulbs can be poisonous -- and it doesn't sound like they're worth the trouble.
Hi there. Comments have been closed for this item. Still have something to say? Contact us.