When is the last time you had a hot fudge sundae? Not an ice cream cone or a single scoop (regardless of how large), but an honest-to-goodness hot fudge sundae.
Once we've grown up, how often do we indulge our inner kid with thick, warm, molten, chocolatey, silky hot fudge sauce over our ice cream?
We say indulgence is a beautiful thing. And we've found a gourmet hot fudge sauce made right here in the Capital Region that will make your outer grown up willing to splurge on your inner kid.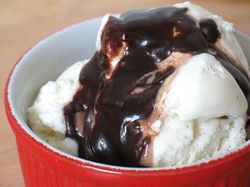 Sundaes Best is made in Greenfield, New York, from an old family recipe. And like the best things about being a kid, it's simple. Real chocolate, real cocoa, milk, cream and sweet butter combine into a silky warm chocolate sauce that becomes ever so slightly gooey when it hits the ice cream. The texture and the burst of real chocolate were our favorite parts.
You can get it mixed with a number of flavors including raspberry, orange and peanut butter, but hot fudge purists that we are, we only tried the straight stuff. No matter which one you try here's a tip -- follow the directions and stir it up before you pour it on. At first we couldn't figure out what the fuss was about. Then we did what we were told and everything changed. No, it isn't magic... it's dessert chemistry. Oh, and don't waste it on the cheap ice cream. Get the good stuff. It's worth it.
You won't find Sundae's Best on supermarket shelves. It's the kind of thing that's sold in gourmet markets and gift shops. We found ours at Putnam Market in Saratoga but SB's website has a list of places you can pick up a jar, including Pearl Grant Richmans at Stuyvesant Plaza and At The Warehouse.
Hi there. Comments have been closed for this item. Still have something to say? Contact us.