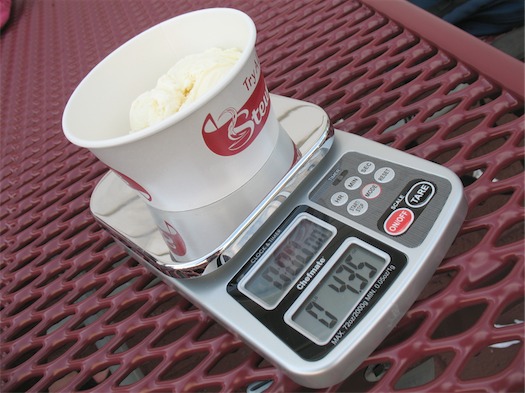 After a few people posted comments about "underscooping" at Emack and Bolio's (the owner responds), we got curious about scoop size. And that prompted us to ask the question: when you walk into an ice cream shop and tell them to give you a scoop of ice cream, how much should you expect to get? Hmm. It probably depends, we thought.
So, we decided to collect some data. The AOA crew hit up five different ice cream shops yesterday and ordered one scoop of vanilla ice cream in a cup at each. Then we weighed those scoops with a digital food scale.
Who had the biggest scoop, the smallest, the most expensive, and much more subjectively -- the best tasting? Here's what we found...
| | | | | |
| --- | --- | --- | --- | --- |
| ice cream shop | scoop weight | price | $/oz | taste |
| Cold Stone | 6.8 oz | $3.24 | .48 | um, not too good, kind of fake |
| Stewart's | 3.9 oz | $1.75 | .45 | pretty good, smooth, classic |
| Tollgate | 5.4 oz | $2.75 | .51 | just OK, middle of the pack |
| Emack and Bolio's | 3.55 oz | $3.25 | .92 | smooth, creamy, real, our favorite |
| Ben and Jerry's | 5.2 oz | $3.00 | .58 | dense, vanilla flavor just OK |
fine print
+ This wasn't intended to be a comprehensive survey of ice cream in this area.
+ All scoops were bought on June 9 by asking for "one scoop of vanilla ice cream in a cup."
+ Scoop weight was measured by weighing the scoop in a cup, weighing the empty cup, and then subtracting the weight of the cup from the first measurement. The scale we used is not a scientific instrument -- we bought it off the shelf at Target.
+ We visited the Coldstone at Stuyvesant Plaza, Stewart's on Western at Russell in Albany, and the Ben and Jerry's on Lark.
+ The taste comments are totally subjective and not based on direct side-by-side comparisons.
+ Scoops will probably always be variable, in part because different people -- even in the same shop -- are making the scoops. Your scoop mileage will almost certainly vary.

The Bottom Line
Based on this limited survey, it would appear that Emack and Bolio's does have scoops that are on the smaller side. That said, its ice cream was also our clear favorite. And a second a scoop there is just 50 cents more, which -- if the second scoop is the same as the first -- would make the ice cream .53 per oz. That's right in line with the other stores. But just a single scoop there is pricy. The best bargain might be at Stewart's. Not only did it have the cheapest ice cream per ounce, it also tasted pretty good.
Hi there. Comments have been closed for this item. Still have something to say? Contact us.