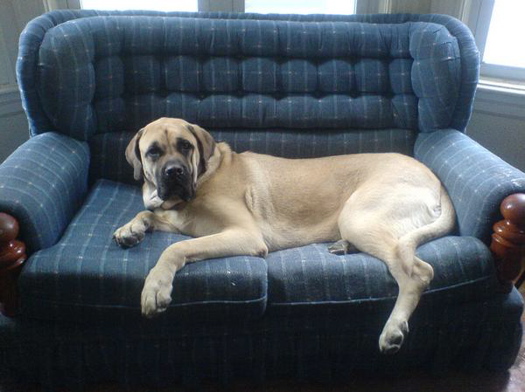 By Jessica Pasko
It's summer, it's hot and frankly you're not the only one who could use a little R&R. Yep, it's time to pamper your pooch. Sure, there are pet spas, pet manicures and doggy day cares but many of us can't justify those for ourselves, let alone our dogs. So here are a few local ideas to help you and your favorite canine through the dog days of summer without breaking the bank:
Take a hike
The great part about this is that it's typically free and will give you and your pooch some exercise. Thacher Park in Voorheesville has some beautiful simple hikes while Normanskill Farm, on the border of Albany and Delmar, has some simple trails, a creek and even a fenced-in dog park. Just be sure to bring plenty of fresh water for both of you.
Gourmet treats
Say goodbye to Snausages and pick up some homemade doggy biscuits. Ballston Spa's Lazy Dog Cookies has an entire organic line of treats, while Cindy Barclay of Bees on Earth sells honey-infused biscuits over at At the Warehouse. Professor Java's the cute coffeehouse on Wolf Road, also sells their own doggy treats.
Bath time
Sure, you could hose your buddy off or stick him in the tub, but why not make things easier for both of you and treat him (and yourself) to a do-it-yourself dog wash. Places like Delmar's Shampoodle provide the tub, leash, towels, dryer, and soap, as well as plastic aprons for you to cover up. Not only do they do the clean-up, but they also provide complimentary "doggie cologne." Try finding a dog who won't feel special after that!
Accessorize
Sure, maybe you're not the type to dress your dog up in frilly little outfits, but that doesn't mean your dog can't show some style. We like the mod dot collar and the pink alligator leash at the Sloppy Kisses dog boutique in Saratoga. You can also check out the goods down the street at Dawgdom .
Ice cream!
Summer's the time when eating ice cream shouldn't make you feel guilty, so why not let your dog join in the fun? Emack and Bolio's offers a special "doggie sundae" featuring vanilla frozen yogurt topped with a biscuit, and they keep fresh water outside for their canine customers. Many local Hannaford grocery stores also carry Yoghund or Frosty Paws, which are specially-made frozen yogurt treats for dogs. These can get a little pricey. If you want to save a few bucks you can try this homemade version.
Earlier on AOA:
+ Heather Bohm-Tallman, dog photographer
+ Pugs! In costumes!
Hi there. Comments have been closed for this item. Still have something to say? Contact us.