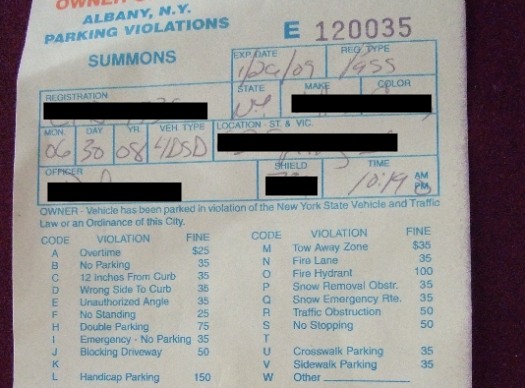 So you're having a great time at lunch or you're stuck in a meeting, but the time is almost up on that parking meter you popped your last quarter into. You're tempted to leave it to chance but if the parking gods aren't with you, what will it cost? A parking violation in the Capital Region can run you anywhere from $10 to around $200.
A few weeks ago we learned that an alternate parking violation in A-Town carries a $65 fine, even if you're caught switching sides a few minutes early. Most folks learn the price of a ticket the hard way. So we thought we'd try and save you a couple of bucks and a whole lot of trouble by posting the fines from Albany, Schenectady, Troy and Saratoga. Here's what we found:
ALBANY:
Add $15 NYS surcharge to every ticket in Albany.
Fines double after 20 days.
Overtime $25
No Parking $35
12 Inches from curb $35
Wrong Side to curb $35
Unauthorized Angle $35
No Standing $25
Double Parking $75
Emergency-No Parking $35
Blocking Driveway $50
Handicap Parking $150 + $30 NYS surcharge.
Tow Away Zone $35
Fire Lane $35
Fire Hydrant $100
Snow Removal Obstr. $35
Traffic Obstruction $50
No Stopping $50
Crosswalk Parking $35
Sidewalk Parking $35

SCHENECTADY:
Fines double after 20 days.
Meter Violation $15
Double Parking $25

Blocking Traffic $30
Overtime Parking $10

Blocking Driveway $25

Other $30
All Night Parking $25
No Parking $25
Fire Hydrant $55
Improper Parking $25

Intersection $25

Fire Lane $55
Wrong Way to Curb $25
Sidewalk Parking $25
Handicap Parking $105 (Add. State Surcharge $30)
Bet. Curb & Sidewalk $25

No Stopping $25

End of Isle/Mall $25

Priority Street $55

Abandoned Vehicle $55
No Standing $25

Snow Removal $30

Snow Emergency $70

TROY:
Fines double after 14 days.
Within 15 ft of hydrant $110
Double parking $35
Blocking drive $35
On sidewalk $35
Within pedestrian crosswalk $35
Facing wrong direction $35
In an intersection $35
Over 12 inches from curb $35
Uninspected $35
No valid registration $35
Posted prohibition $35
Within bus stop area $35
Allowing less than 10 feet for free flow of traffic $35
Within loading zone $35
Occupying more than 1 marked space $35
City lot without permit $35
Overtime parking 1st violation - $20
Overtime parking subsequent violations-$35
Handicapped - $140 + $30 NYS surcharge
"Other" violation $35

SARATOGA:
In Saratoga you can pay parking violations online
but unless you're paying in cash, add a $5 surcharge to all Saratoga tickets.
Fines double after 20 days.
Restricted Night Parking $25
Improper Parking $25
No Parking Zone $25
Handicapped Zone $140 + $30 NYS surcharge
Obstructing Traffic $25
Overtime Limit $25
Abandoned Vehicle $25
Obstructing Intersection $25
Obstructing Crosswalk/Sidewalk $25
Obstructing Driveways $25
Obstructing Loading Zones $25
Obstructing Snow Emergency Zone $25
Obstructing Or Parking Too Close To Fire Hydrant $60
Parking In Or Blocking A Fire Lane $60
Parked Facing Wrong Way $25
Alternate Side Parking $25
Double Parking $25
Unregistered Motor Vehicle $25
Uninspected Motor Vehicle $25
Failure To Display Current Registration Certificate$25
Truck In Residental Zone $95
Second Offense $195
Other $30
A couple of things we noticed:
**Parking in a handicapped spot carries one of the heaviest fines in all four cities-- but at
$150 + the $30 NYS surcharge, it's most expensive in Albany. Of course no one who reads AOA would park in a handicapped spot without a tag so it's sort of a moot point.
**Far be it from us to encourage anyone to violate the law, but if you're going to violate a parking regulation, it appears that Schenectady is where you'll get your best parking regulation violation value.
Hi there. Comments have been closed for this item. Still have something to say? Contact us.