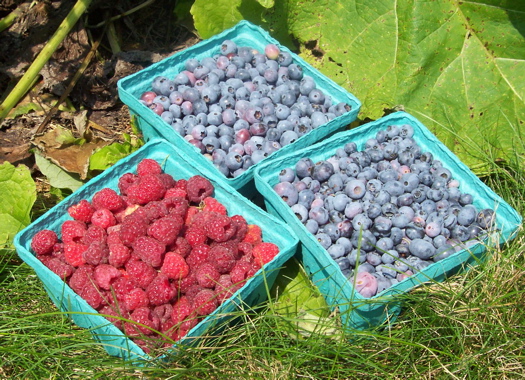 By Jessica Pasko
Update: Here are Capital Region pick-your-own strawberry farms.
There are few things in life as enjoyable as fresh picked berries in the summer. And somehow picking them yourself makes them seem that much sweeter. Really.
Fortunately for us Capital Regionites, there are plenty of local farms offering us the U-pick route when it comes to strawberries, raspberries, blueberries and their kin.
So if you've got the urge to pick a peck (whatever that is) or two, here are a few places to check out:
Indian Ladder Farms
Indian Ladder Farms in Altamont has plenty of blueberries right now and some raspberries left as well. The blueberries are especially plentiful and are easy to pick, while the raspberries are dwindling until the late summer crop comes in. Raspberries are $3.95 a quart while blueberries are $2.95. The nice folks at this venerable farm suggest you call before you come to check on conditions, (518) 765-2956. While you're there, you can also check out their extensive shop and visit the farm animals (we can't resist Rosie the Scottish Highland cow.)
Samascott Orchards
Raspberries and blueberries are in season at Columbia County's Samascott Orchards along with a vast variety of other pick-your-own produce. Raspberries are winding down, but if you miss 'em, there will be a second crop in September. For more information, call 518-758-7224.
Bowman's Orchards
Bowman Orchards in Rexford, near Clifton Park, is mainly known for its apples but they've also got blueberries, raspberries and blackberries. According to their Web site, only raspberries are available right now for pick-your-own but they've got several varieties to choose from.
Castleton's Goold's Orchards
The strawberry harvest at Castleton's Goold's Orchards was a no-show thanks to winter damage, but they are offering pick-your-own raspberries.
Know of any other local farms doing berry picking? Give us a shout.
Hmmm....did someone say pie?
Hi there. Comments have been closed for this item. Still have something to say? Contact us.