By Jessica Pasko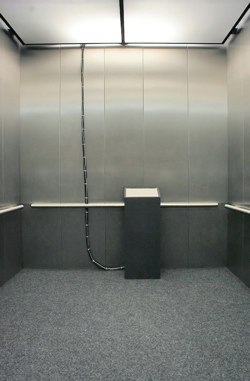 Elevator music? No, it's not Muzak this time. This elevator music is a little, well, different. Sound artist Jessica Rylan of Boston has literally turned an elevator in Saratoga into a giant, unique musical instrument.
Using synthesizers and digital audio equipment, Rylan has transformed the large steel elevator at Skidmore College's Tang Teaching Gallery and Museum into a piece called Elevator Music 12: Imaginary Bridge. Rylan, who also performs in the one-woman noise band Can't, creates installation and performance projects that feature analog synthesizers she creates and designs herself. For the Tang piece, Rylan worked closely with the museum's own Patrick O'Rourke, creating a sound palate combining distorted tones, shrieks, whispers and more.
And yes, you can try this at home. If you want to make music with your own elevator, Rylan also sells her original synthesizers through her own line, Flower Electronics
The installation will be at the Tang through September 20. Suggested admission for the Tang is $5 for adults and it's open every day except Mondays.
Find It
Tang Teaching Gallery and Museum, Skidmore College
North Broadway
Saratoga Springs, NY 12866