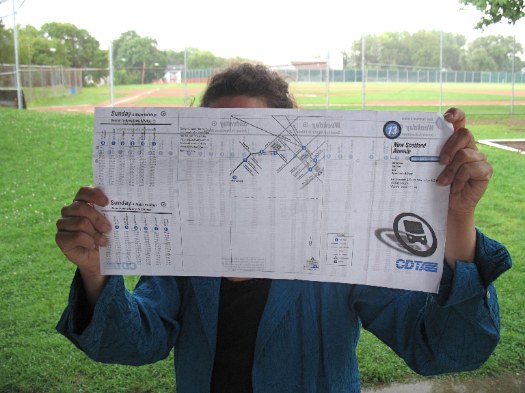 Later on AOA: TQL revealed herself to be Leah Golby.
____
One of our favorite people in the Capital Region's online neighborhood is ThisQualityLife, who blogs about her adventures navigating the bus system at Qualities of Life in Albany. Gently prodding CDTA to do better, she's become an advocate for people who use public transportation. We think it's great she's taking the time to speak out.
Part of what makes TQL's effort interesting is that she doesn't have a car -- by choice. A little more than a year ago, she decided to give it up. Frankly, we can't imagine getting around the Capital Region full-time without a car. So, we were curious about what prompted her to do that and how it's affected her life. We met up last week to ask her a few questions...
What prompted you to give up your car?
It wouldn't start. (laughs) There was a day where I had all this free time planned, and I went downstairs, and my car wouldn't start. And I was just like, well, I could call AAA and take the time to try to get it fixed -- or I could still enjoy my free time. So, I just kept walking.
And you haven't stopped.
Yeah. (laughs) Yeah, essentially. It's a lot of walking.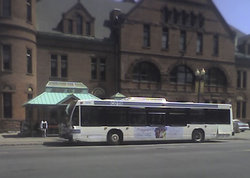 That's a big choice to make in modern society, to say, "That's it, I'm done with the car."
Yeah, I didn't think it was going to last. I thought I'd do it for the summer. And then by November I'd be ready to buy a car. And then... it was alright, I was dealing with it.
I was renting cars at least once a month, sometimes more than once a month. Lately, the last was for a big family trip around the Fourth of July. And I haven't rented one since then.
So it sounds like you've been able to make it OK without a car.
I have been. A lot of people do. And a lot of people do it by choice.
What's interesting about the car/no car decision is that for some people it's just a fact of life -- and for others they just couldn't imagine not having a car. It's this enormous gulf between those two people.
It is. Did you see when the TU sent its reporters on the buses? (laughs) You know, that was funny. (laughs)
That spoke to the cultural divide at work -- we're going to do this strange and exotic thing.
Right. And when you watch the video, there's this video of Tracy Ormsbee, where she asks, "Why would somebody do this?" I understand that. And the other thing she did that I actually totally relate to is that, at the end of the video, she sits in her car and puts her hands on the wheel and she's just like "Ahhh" -- she's so happy. And that's how I feel every time I rent a car.
So you still have car lust, or car longing.
I do. I love driving. But it was a financial decision. It was a sacrifice. But it made sense.
I live in the city, I like to walk. [AOA: TQL lives in Pine Hills in Albany] I'm not someone I can ever imaging living in a suburb. I can walk to a number of bus lines that run six or seven days a week. And I can get to most places I need to go. And I know people with cars if I really need to get someplace.
Now that you've lived like this for about a year, what's been the payoff do you think?
I've lost weight! How much is hard to say because I was already working to lose some, but I've been able to keep it off because of the walking.
And there's a payoff on the buses. I'm finding there's a camaraderie among people who take the bus. I definitely see more people, talk to more people.
And I help the environment in a little way.
It sounds like adopting this lifestyle has helped you feel more plugged into your community.
Yeah, it has. Definitely. I walk around my neighborhood -- I never realized how much I didn't walk around my neighborhood before. But I say hi to people now because I walk by their houses all the time -- and they're two blocks away from me, but [before] I didn't know who lived right around the corner.
For those people who just can't imagine not having a car in the Capital Region, what do you say to them? Should they try it?
Well, listen, if you live in the suburbs it's ridiculous to try it. I say, if it's something you're thinking about doing, you should try it. But, you know, it's not worth it [financially] when you're still paying car insurance. But try it, maybe you'll like it.
You know... it's a nice thing. But it takes a lot of planning and you have to have a lot of free time.
So what are the downsides?
Time. We live in a time where you're expected to be someplace right now. And that's hard because I spend a lot of time on the bus or waiting for a connection when I could be spending my time more productively.
But I have these strategies now. I'm a big newshound, so I used to read the newspaper the minute I heard the thud first thing in the morning. But now I wait until I'm on the bus because I feel like it's a better use of my time. [It's] definitely made me more mindful of how I spend my time.
Do you think you'll ever go back to the ranks of the car-owning?
(pause) You know, I'd really like to see car sharing. If car sharing came to Albany, dude, I'm down with it. There are some smaller cities that are doing it.
I've done a wee little bit of research on car sharing. And you know, we've got that whole comprehensive plan thing going here, so I'm talking to people I know involved with that and I'm like (whispers) "Car sharing! Car sharing! Non-profit car sharing!"
I think... I think might done with [owning a car] -- unless they make an inexpensive car that doesn't pollute the world.
This interview has been lightly edited and condensed.
Hi there. Comments have been closed for this item. Still have something to say? Contact us.