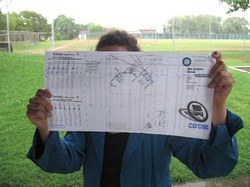 One of the best things about working on AOA this past year is that we've had the chance to meet a lot of interesting people. We'll be highlighting a handful of them between now and the start of 2009.
Let it be known: This Quality Life, the Capital Region's transit-riding superhero, is Leah Golby.
AOA tagged Leah with that superhero label back in August after we interviewed her about making the choice to not own a car -- she had been blogging anonymously and wasn't sure she wanted to reveal her identity. It was a little bit of a joke between us.
But in some small way, Leah is a hero. Neighborhoods work best when the people who live in them take an active role. And Leah has definitely been involved this year -- whether it was working to form a transit riders coalition or speaking up about violence in Albany.
In short, Leah decided to do something about the issues in her neighborhood. We could all probably take a cue from her and get more involved.
So what's up for 2009? Leah emailed this week after getting back from a trip... in a rented car:
TQL-related plans for 2009
1. Spend less cash, so I can afford to take the bus when the 50% fare hike goes into effect - that's April Fool's Day, by the way.
2. Get myself a bicycle and a helmet by bike month, that's May, right? Then use them both.
3. Wave my superhero wand so that automobile drivers are aware and respectful of pedestrians and bicyclists.


Things I'd like to see happen with CDTA or the Capital Region in 2009
1. I'd like to see this region get funding to implement some type of rail service between Albany, Rensselaer, Saratoga and Schenectady counties that runs regularly -- for commuters and also for folks who just want to get around without a car.
2. For starters... I'd like CDTA to get what it needs to add and improve service (not cut service as planned), keep fares at $1/ ride, and fix the displays at the Armory Bus shelter.
3. Free transfers need to come back -- not as those flimsy slips of paper from the 20th century that disintegrate in your pocket on a rainy day, but as cards that pop out of the fare box similar to the MTA. I'm in total agreement with Shawn Morris on this one from the 12/23 TU:


While CDTA has not raised the base fare since 1995, Council President Shawn Morris noted that a fare simplification program enacted in 2005 eliminated free transfers. As a result, she said, "it is more expensive to take a bus from Arbor Hill to Albany Medical Center, which is two or three miles, than it is to take a bus from Schenectady to Albany."


4. I'd like to see monthly swipers that are valid 30 days from the first use - not from the first of the month through the last day of the month - giving the purchaser the flexibility of buying a monthly pass when it best suits them. I'd also like to see weekly passes sold at a good discount.
5. Car sharing anyone?

Hi there. Comments have been closed for this item. Still have something to say? Contact us.