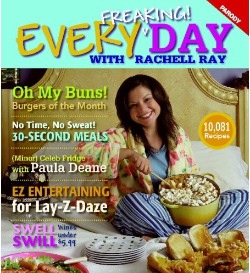 You know how you can tell your campaign toward world domination is really making progress (aside, from, you know banking $18 million a year)? When the parody books start showing up. Here's how Every Freaking! Day with Rachael Ray is described on Amazon:

Hey kids! If 30-minute meals are good, wouldn't 30-second meals be even better? You bet they would! And EVERY FREAKING! DAY WITH RACHELL RAY makes this dream a reality!

The parody book goes on sale September 3. And, no, the Ray has apparently not seen it.
In other RRWDW news: viewers of the Rachael Ray talk show love Alan Alda.
Hi there. Comments have been closed for this item. Still have something to say? Contact us.