By Jessica Pasko
Art? From a vending machine?
Yes, IPods aren't the only things that come in vending machines here in the Capital Region. A vending machine* in Troy has been refitted to dispense miniature pieces of art by emerging artists.
Yeah, we know It sounds a little weird, but it's actually kind of cool.
For five bucks and a trip to Kismet art gallery in the Collar City, you can see for yourself.
Pull the lever to choose the artist you want. At last week's Troy Night Out we picked out a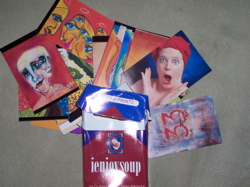 small box, made to look like a pack of cigarettes. Instead it was filled with small business-card sized art prints. It's by someone called I Enjoy Soup.
We're looking forward to heading back again to see what other mini-masterpieces we'll end up with. Rumor has it that art magnets might be among the selections.
Word of advice: Bring quarters and singles. This baby doesn't take $5 dollar bills yet.
*This post originally referred to the vending machine in Troy as an "Art-o-mat." We were informed by artist Clark Whittington, creator of the Art-o-mat®, that it is not an official device of said trademark. He also didn't want us linking to his site. We regret the error.
Find It
Kismet Art Gallery
71 Fourth Street
Troy, NY 12180
Hours:
Mon. to Fri Noon -6
Sat. 10-6
Closed Sunday
Hi there. Comments have been closed for this item. Still have something to say? Contact us.