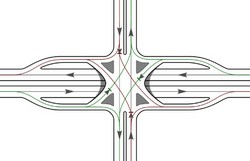 After James saw our post last week about the SPUI that's coming to Latham (say "spoo-ee"), he mentioned it to his friend Bill Rusham, who's a traffic engineer and the host of Talking Traffic, a podcast about, well... traffic. (Behold the glory of the interwebs.)
So Bill spent some time on the podcast talking about SPUIs, "the interchange that's shaking things up around the country." Here's a clip from the episode:

So, here you are, sitting at a signal, wanting to turn left onto the cross street. Your light turns green and you proceed into the interesection, but OH MY GOD! WHAT THE HELL IS THAT OTHER CAR DOING! HE'S DRIVING STRAIGHT AT ME!

Oh, no, he's making a left, too. And he's passing to my right. What is this, England?

No. This is a correctly functioning SPUI.

Bill runs through a few of the pros (fewer signals) and cons (requires "enthusiastic" upkeep) of SPUIs. The whole episode is about interchanges -- the part about SPUIs starts at 8:32.
As James emailed us, "I hope this helps... I learned a ton about SPUIs, and hopefully the rest of Albany will too."
(Thanks, James!)
Hi there. Comments have been closed for this item. Still have something to say? Contact us.